By Dr. TRACY MOUNTFORD, MBBS MBCAM
Once the warmer weather arrives, unsightly brown spots may appear that are darker on faces and hands. This is due to the melanin intensifying under UVB light. Thankfully, we can apply a range of non-surgical techniques to get rid of brown age spots and prevent new ones from forming. 
What are brown sun spots?
Sun spots are flat brown spots that appear on the surface of the skin, and they vary in shape and size. Also known as liver spots or solar lengitines, they frequently occur after prolonged exposure to ultraviolet rays from sunlight. They are also common in adults over the age of 50, but younger people can also get them, especially if they spend a lot of time outside. Sun spots appear frequently on the face, and are a key skin imperfection.
What causes brown sun spots?
Brown sun spots occur as a direct result of overexposure to the sun's damaged ultraviolet (UV) rays. UV rays directly cause pigmented skin cells called melanocytes to multiply in the skin, especially across key areas that are usually exposure to the sun, such as the face, shoulders, forearms and the back of the hands. They can make a person look aged and weathered, and they can be a particular problem for people who regularly indulge in the use of sun beds or sunbathing to tan their skin.
Can brown sun spots be prevented?
Thankfully, there are several ways that patients can help to reduce the risk of developing brown spots on the skin. Prevention is always better than cure, so always wear a high-factor sunscreen SPF of 30 or more. However, to maximise the skin's defence against UVA and UVB radiation, it is best to wear a sunscreen of 50 or more. Keep sunglasses and hats close at hand as well to provide adequate shade from the sunlight.
Many natural remedies have also been scientifically proven to help fade existing sub spots over time. For example, studies have shown that aloesin and aloin, two active compounds found in aloe vera plants, can lighten sun spots. Vitamin C is also an amazing anti-oxidant defence for the skin and helps to protect it from sun damage. Seek creams with L-ascorbic acid to directly your skin from UVA and UVB rays. This acid also promotes collagen production and has been found to be effective at lightening brown patches across the skin.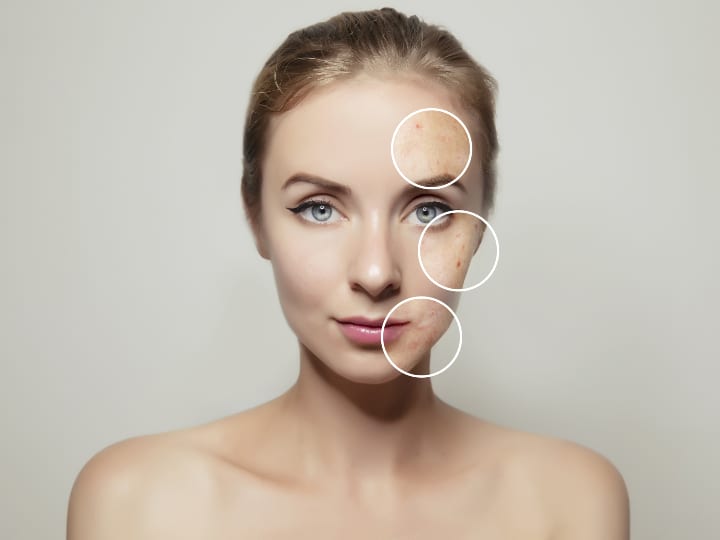 Getting rid of brown sun spots on skin
For more persistent brown spots that remain visible after the summer months have long gone, there is a range of non-surgical treatments that can help to reduce them. Here at The Cosmetic Skin Clinic, we have some of the very best treatments available to get rid of brown sun spots without any surgery or downtime, meaning that patients can reduce the look of dark spots with ease. These treatments are discussed in detail below:
Intense Pulse Light Treatment
A light-based treatment IPL photo rejuvenation (Intense Pulsed Light) may be suitable for your skin: this treatment breaks up the melanin, spots appear lighter and skin tone is more even. The added benefit of this treatment is that collagen production is stimulated enhancing your skins overall appearance.
Laser Resurfacing
Laser resurfacing is a powerful skin rejuvenation treatment that can minimise the appearance of brown sun spots in less than an hour. SmartXide DOT CO2 laser system uses tiny laser microbeams to stimulate fresh collagen renewal and break down darkened pigmentation. Patients will notice an improved skin tone immediately after one treatment, but for darker brown spots, or those of a larger size, we may need to apply two treatments to achieve optimal results.
Forever Young BBL
Forever Young BBL is one of the world's most effective light-based therapies that targets skin imperfections like sun spots. It boosts the body's own natural ability to renew and refresh damaged skin cells by using an intensive laser to cause skin cells to remodel. It is also a very quick procedure to undertake, taking as little as 15 to 30 minutes. Sun spots will usually disperse within just two weeks post-treatment, making it one of the most rapid and effective treatments to get rid of sun spots permanently.
Chemical peels
Peels provide an instant quick-fix when it comes to minimising the dark appearance of sun-damaged skin. The procedure involves applying an acid-based solution to the top layer of the skin using a specialised applicator. Active ingredients within the solution then hydrate and nourish the skin, while also removing the pigmented sun spots in the process. The top layer of the skin is actually removed during this process, making way for revitalised and healthy skin underneath. As a result, mild brown sun spots can be completely removed, while larger and darker sun spots can be lightened.
These treatments can also be combined in severe cases to achieve the best results.
For more information regarding brown sun spots, and how to treat them, fill out our online contact form. You can also call our London and Buckinghamshire clinics directly on 0330 057 5425.