The Truth About Cosmetic Procedures – Dr Tracy Mountford Returns
The Emma Guns Show Podcast
September 2020
Renowned beauty podcaster and writer Emma Gunavardhana discusses the truth about cosmetic procedures with Dr Tracy Mountford in her latest Podcast.
What should patients expect from a good consultation? How does a practitioner select the right treatment for them? How do qualified aestheticians seek to manage patient expectations versus reality? And how can patients avoid the trap of looking "overdone" and unnatural?
These hot industry topics are explored in detail through a lively and open discussion that reveals the key "do's and don'ts" for people seeking cosmetic treatments.
The Highlights
Why a good consultation is so important
Emma begins by talking about her own cosmetic treatment experience and how her expectations have sometimes not met reality. She asks Dr Tracy how she seeks to minimise this experience in a non-surgical cosmetic setting. Dr Tracy emphasises the importance of seeking a thorough and honest consultation with a transparent practitioner to achieve a positive outcome. She explains:
"The most important part of any cosmetic procedure is the initial consultation, but it also tends to be the thing that's done least well generally."
Effective consultations should "be very very clear and honest with an open dialogue. If you are direct with people, they go into it with a different perspective, and then you can be fairly sure that patients will be happy."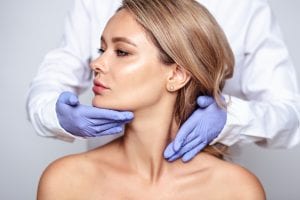 Tailoring Treatments to Patient Needs
They then discuss how tailoring suitable treatments to patient needs rather than desires is the real key to cosmetic success. Emma asks about the different advice that Tracy would give to younger patients who are focused on prevention and older patients who may require more help. Dr Tracy explains how each patient is unique, and how vital it is to put patients "on the right track with a sophisticated multi-disciplinary approach" that responds to their needs honestly and transparently.
She also heralds the beauty benefits of dermal fillers for all ages while dispelling the misunderstandings surrounding them:
"If I had one thing to take on my desert island away, I would take fillers every time. What people don't understand is that filler will stimulate natural collagen at a deeper level. It's not just about putting a plaster over a problem."
How to avoid 'unnatural' looks
The pair then muse on the frequently touted issue of cosmetic procedures going wrong. Emma asks Tracy about the secrets to getting it "just right" so you avoid an exaggerated look. Dr Tracy explains that a trustworthy aesthetician will always say 'no' if things have gone too far.
"The people who get it right are those people who just have enough, but not too much. They're maintaining their look. They're keeping that naturalness about them and they are taking the advice of their trusted practitioner to not let them go too far."
Expectations versus reality
Emma ends the discussion back where it started by reflecting on the best way to guarantee that patient and practitioner are both happy. Dr Tracy summarises by focusing on the quality of the relationship as the cornerstone to success:
"It's about developing the relationship, getting into someone's head and understanding what they want from it, and gaining their trust."
"You can never promise someone that you can match their expectations. What you can promise them is that you'll do your very very best, and you'll do it with their best interests at heart. But you cannot do any more than that. If someone goes into it with that understanding, it's a wonderful journey that you'll have with them."
Listen to the full Podcast below: