By Dr. TRACY MOUNTFORD, MBBS MBCAM
Tatler Beauty & Cosmetic Surgery Guide 2020 – March Edition
We were delighted and honoured to be featured for the seventh consecutive year in the prestigious Tatler Beauty & Cosmetic Surgery Guide 2020.
We had the pleasure of being featured in a double page spread titled 'Wonder Women' calling Dr Tracy Mountford and her all-female team 'miracle workers'. "A keen aesthetic eye, a lightness of touch and true artistic vision are qualities to be championed in a cosmetic doctor. This flair and skill can be summed up succinctly as 'it' – and Dr Tracy Mountford has 'it' in spades."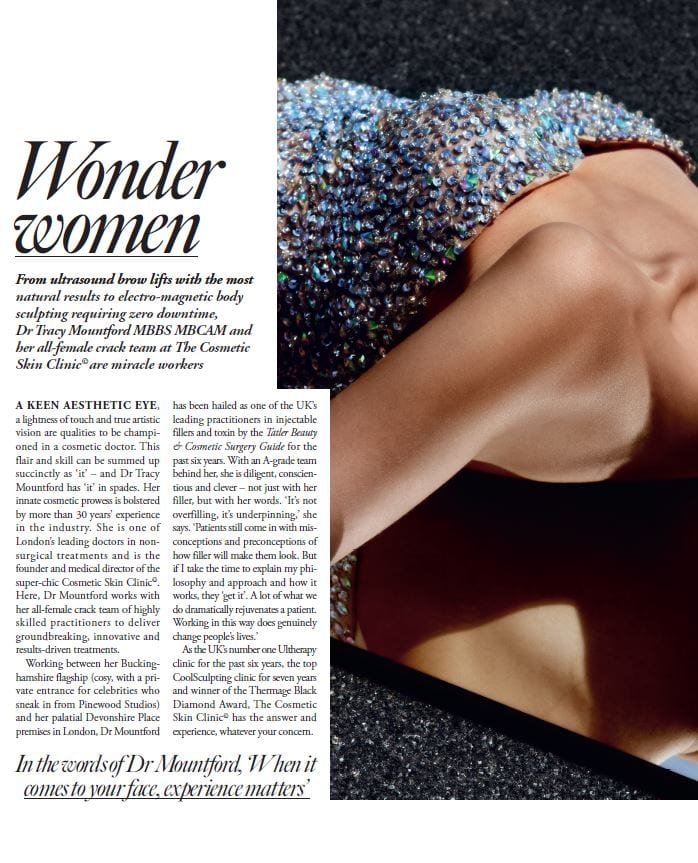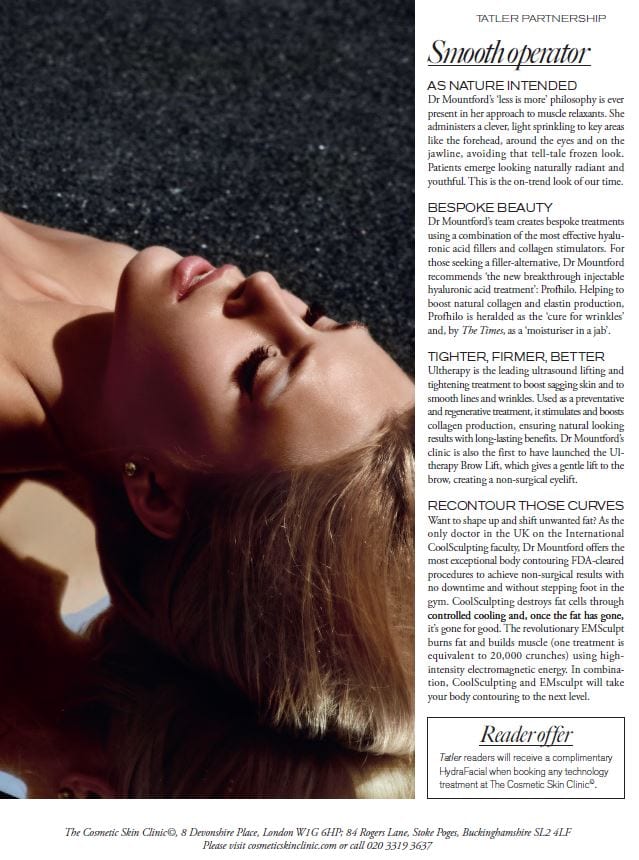 Dr Joanna Best For; Sculpted Jaw!
Dr Joanna Christou featured in Tatler investigations 'Treatments On Trial'
This was all about the 'Lower Face Lift' which is very 'on trend' for 2020. For the purposes of the trial Dr Joanna Christou was selected to perform this treatment on a patient supplied by Tatler. The verdict was: Surprisingly little downtime, "a dramatic improvement: weak chins taking on a new strength, while heavy jowls are as good as gone! Joyfully imperceptible to others but my goodness, you'll see a difference in photographs."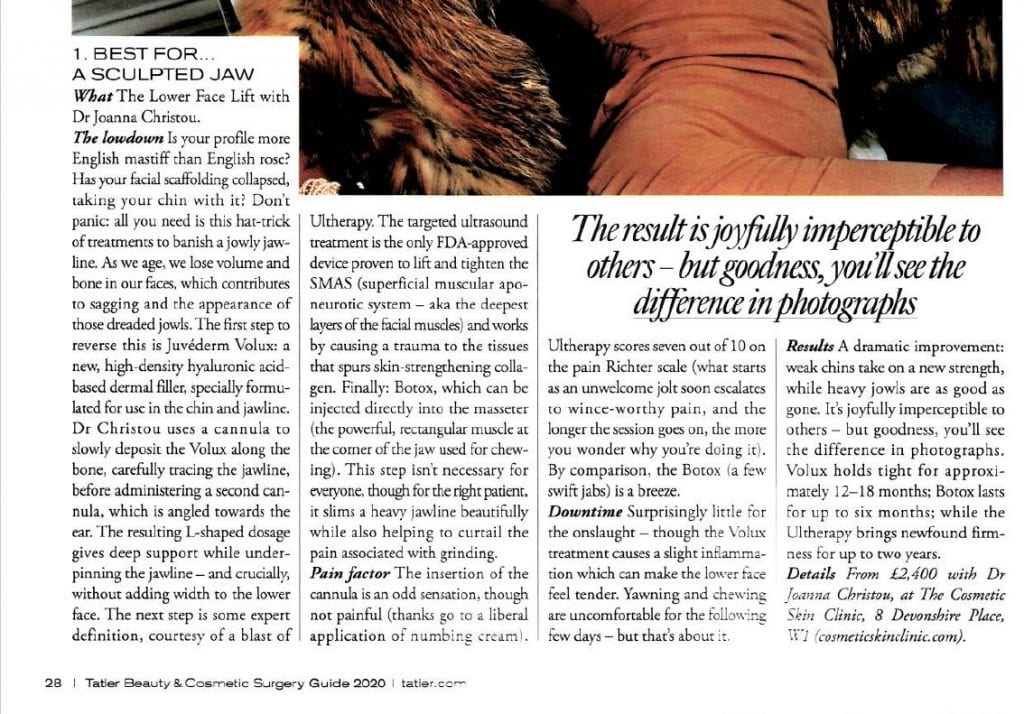 This year in the 'Experts' section of 'Top Doctors' we received a triple mention:
Dr Tracy Mountford – First for injectables, profiled as one of the first injectors in the UK and has been going strong for 29 years, keeping her patients in 'Aesthetic Suspended Animation'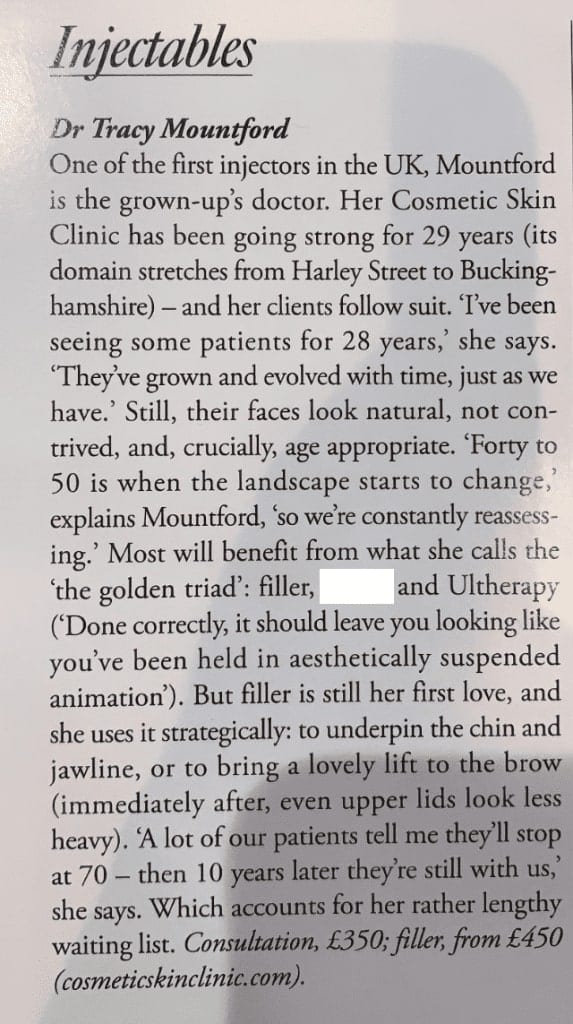 Dr Joanna Christou 'New Entry' – Fresh faced and flies remarkably under the radar! 'The way she suspends the tissues brings a youthful lift, and lightens a heavy looking lower face.'
Dr Sophie Shotter 'New Entry' – A bright new star – wise beyond her years…
We were also featured in a piece about EMSculpt and how BTL have further refined their game-changing non-invasive fat-busting technology. The EMSculpt Small Contour Applicator brings the unrivalled results of EMSculpt to even more key muscle groups, making it the only safe non-invasive fat treatment  to tone and strengthen the arms and calf muscles too.
*DISCLAIMER Patient experience and results may vary. These are dependent on a number of factors such as lifestyle, age and medical history.
Copyright © The Cosmetic Skin Clinic. All rights reserved. Unauthorised use and/or duplication of this material without express and written permission from this site's author and/or owner is strictly prohibited. Excerpts and links may be used, provided that full and clear credit is given to The Cosmetic Skin Clinic with appropriate and specific direction to the original content.