By Dr. TRACY MOUNTFORD, MBBS MBCAM
The Daily Mail Nip & Tuck 2nd January 2017
The Daily Mail Nip & Tuck articles by Dr Tracy Mountford appear weekly, in print and online for the Monday Inspire magazine'. And in this week's column a reader asks for advice on how to help with dry skin:
Creams aren't working, how can I cure dry skin?
Winter can have the most dramatic impact on our skin, causing dryness and sensitivity. In spite of this, many people don't adapt their skin care regime to take into account the change in temperature. To help combat these effects, Dr Mountford recommends cosmeceutical products which contain higher concentrations of active ingredients than over-the-counter versions. For clinical treatments, laser procedures such as Clear+Brilliant or IPL will encourage skin to replace damage cells and improve its tone and texture.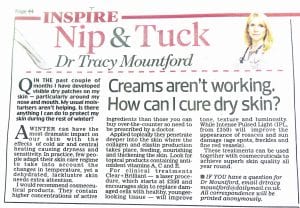 *DISCLAIMER Patient experience and results may vary. These are dependent on a number of factors such as lifestyle, age and medical history.
Copyright © The Cosmetic Skin Clinic. All rights reserved. Unauthorised use and/or duplication of this material without express and written permission from this site's author and/or owner is strictly prohibited. Excerpts and links may be used, provided that full and clear credit is given to The Cosmetic Skin Clinic with appropriate and specific direction to the original content.