By Dr. TRACY MOUNTFORD, MBBS MBCAM
The Daily Mail Nip & Tuck 26th June 2017
The Nip & Tuck articles by Dr Tracy Mountford appear weekly, in print and online in the Monday 'Inspire' section. In this week's column, a reader asks about treatments for sunspots:
Dr Mountford explains that sun damage is a major contributing factor to age spots, wrinkles, open pores and uneven skin tone. Avoiding exposure with regular use of sunscreen is so important at this time of year, to protect the skin from sun damage. Depending on your age and the severity of your sun damage, there are a number of treatments that can help. These include IPL (Intense Pulsed Light) which can reduce age spots and improve the appearance of sun damage. It works by targeting brown pigment and red vessels, and also has the benefit of stimulating collagen production.
Chemical peels are also a safe way to improve your skin. An acid is applied to the top layer to stimulate new collagen production and fade pigmentation. Peels are especially good if you also suffer from fine wrinkles or acne damage. To maintain the improvement in skin quality, prescription cosmeceuticals are also recommended. They contain higher concentrations of active ingredients such as Vitamins A and C, which work with the clinical treatments to minimise brown spots.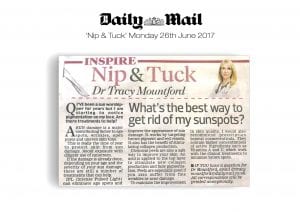 *DISCLAIMER Patient experience and results may vary. These are dependent on a number of factors such as lifestyle, age and medical history.
Copyright © The Cosmetic Skin Clinic. All rights reserved. Unauthorised use and/or duplication of this material without express and written permission from this site's author and/or owner is strictly prohibited. Excerpts and links may be used, provided that full and clear credit is given to The Cosmetic Skin Clinic with appropriate and specific direction to the original content.