The 'Nip & Tuck' articles by Dr Tracy Mountford appear weekly, in print and online for the Daily Mail's new Monday magazine; 'Inspire'.  The 'Nip & Tuck' column first appeared in the Daily Mail on 1st February 2016.
During June 2016, Dr Tracy Mountford's recommended various treatments in her 'Nip & Tuck' articles on: 'how to firm up the neck', 'reduce a flabby tummy', 'ways to reduce fine lines around the lips' and 'how to make facial fillers more effective'.  In the articles she advises on a number of procedures for readers to consider: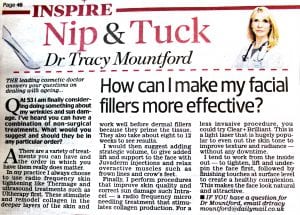 Dr Tracy Mountford talks through a number of treatments in the 'Nip & Tuck' article that can make facial fillers more effective for someone in their 50s and treatments that also work upon wrinkles and sun damage.  To obtain optimum results, Dr Mountford recommends treatments in a specific order: to firstly, stimulate and remodel collagen; then to selectively add facial volume and lastly improve skin quality and tone.   She recommends Thermage (radio frequency skin tightening) or Ultherapy (ultrasound skin tightening & lifting treatment) as procedures to tighten and lift the skin followed by injections of Juvederm to restore facial volume loss.  Finally, Dr Mountford favours using the treatment, Clear+Brilliant, to smooth out skin tone and improve the overall texture – to add radiance and luminosity to the face.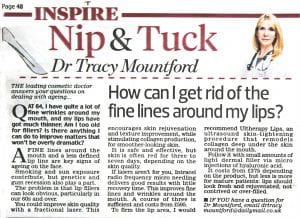 Dr Tracy Mountford says lip lines develop due to a number of causes: sun exposure, smoking, gum recession and can also be a result of an individual's genetics.  She explains that lip fillers can sometimes look obvious particularly if the patient is in their 60s or older.  In this case, the 'Nip & Tuck' question was posed by someone aged 64. Dr Mountford recommended that the skins quality should be improved first.  The use of a fractional laser treatment will encourage skin rejuvenation and improve texture.  Intracel is another option, this is a radio frequency microneedling procedure used to smooth fine lines and wrinkles around the mouth.
In addition to improving the skin quality around the lips, to firm the lip area she would use a treatment such as 'Ultherapy lips' which remodels collagen deep under the skin around the mouth, which is long lasting, combined with small amounts of a light dermal filler (micro injections of hyaluronic acid).  Dr Mountford says "less is more" for mature patients.  Her aim would be to use combined treatments so that lips look natural, fresh and rejuvenated – not contrived!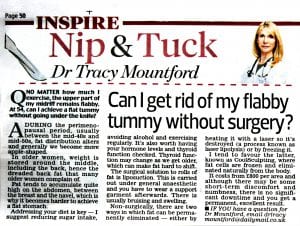 Dr Mountford reports that some women experience weight gain in the pre-menopausal period (mid-40s to mid-50s) when the fat distribution in the body alters, we become more apple shaped.  During this period of life, fat tends to accumulate around the middle (high on the abdomen) also as bra fat and back fat.  Dr Mountford says it is important to first examine your diet.  Also look at ways to reduce sugar intake, avoid alcohol and exercise regularly.  She says that hormone levels may need checking especially the thyroid function as this is known to change as we get older.
Dr Mountford says there are ways to reduce body fat either surgically or non-surgically.  Liposuction is the surgical option which is carried out under general anaesthetic, bruising and swelling is usual after the operation and a support garment will be needed.  The non-surgical options are laser lipolysis, heating fat to destroy cells, or CoolSculpting, which freezes and destroys the fat cells.  Dr Mountford prefers the fat freezing method (Cryolipolysis) as she says there is no significant downtime, little discomfort and you get excellent results.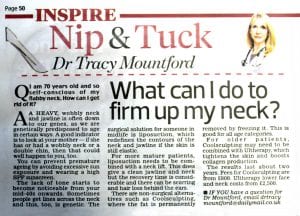 This question was posed by a 70-year-old.  In this 'Nip & Tuck' article, Dr Tracy Mountford discusses how to firm up the neck for someone of this age.  She explains that when a patient develops a heavy, wobbly neck and jawline it is often due to their genetic makeup.  She says a good indicator will be to look at their mother and see if they have/had a double chin or wobbly neck.  If so, it is likely they will develop the same.
Dr Mountford went onto to say, to prevent premature ageing of the face and neck, is to avoid high sun exposure and adopt a high SPF sunscreen.  She also explains that lack of skin tone becomes noticeable in people mid-40s onwards and lines can often develop across the neck, which is also genetic.  She says, in this instance, the surgical solution is liposuction to redefine the contours of neck and jawline.  This may be combined with a neck lift for more mature patients.  However, the non-surgical option would be CoolSculpting, a fat freezing treatment, which can be used for patients of all ages.  Older patients may perhaps need to have a combination treatment of Coolsculpting with Ultherapy because their skin may need to be tightened and lifted by boosting and collagen production.
You can click on the 'Nip & Tuck' article snippets (links above) to read the full features, or if you have your own ageing concerns, why not contact Dr Mountford directly at [email protected] or telephone our reception team on 01753 646 660 for more information.