Marie Claire – 'Body Goals'
In the July issue of Marie Claire, they spotlight the easiest ways to get beach ready without living on kale or moving into the gym with their feature 'Body Goals'.
 Fat Freeze
There are so many treatments that promise to get rid of fat, but CoolSculpting is the one that works. And it's the only FDA-approved non-surgical fat freezing treatment that uses controlled cooling to reduce stubborn fat.
"Designed for people who are healthy, but have stubborn problem areas they can't shift, CoolSculpting uses cryolipolysis. This freezes fat cells to destroy them – to sculpt and contour the body without any need for surgery"
says Dr Tracy Mountford of The Cosmetic Skin Clinic. The cells then shrivel and die and are naturally excreted by the body.
The treatment came about after scientists in the 1970s noticed small dimples in the cheeks of children who loved ice lollies, and found that the ice lollies were freezing and reducing small pockets of fat cells. This was the insight behind cryolipolysis – where cold can target fat cells—without damaging the skin or surrounding tissue.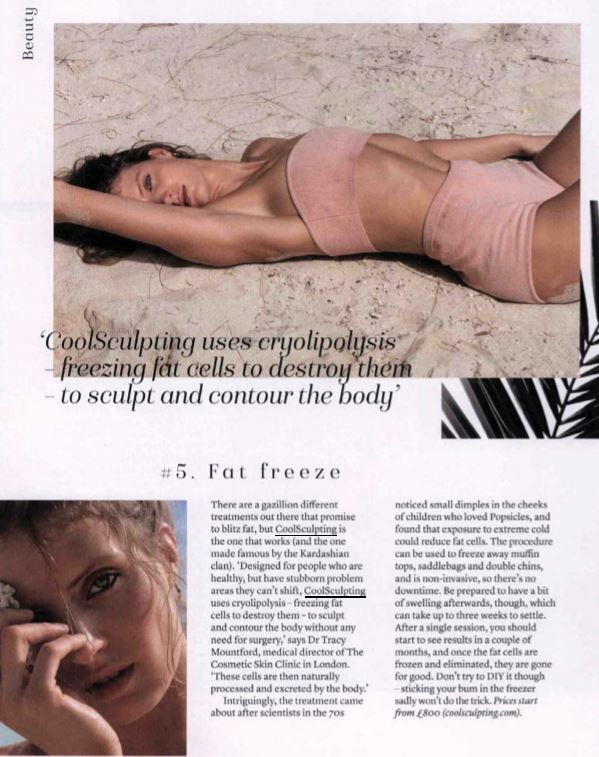 CoolSculpting can successfully treat areas such as the abdomen, thighs, flanks, bra fat, arms and under chins. It's non-invasive, so there's no downtime, just a little swelling post-treatment which usually disappears after 1-2 weeks. Patients typically see results from 3 – 12 weeks after treatment.
To find out more about CoolSculpting, contact our Reception Team who will be happy to answer your questions.