By Dr. TRACY MOUNTFORD, MBBS MBCAM
We are absolutely delighted to be the recipient of the 'Ultherapy Ultra Premiere Treatment Provider 2014 Award'; the award presentation took place last Friday at our new clinic in London (No.1 Upper Wimpole St). This award was presented to Dr Tracy Mountford by the Managing Director for Ultherapy in the UK Mr James Backhouse.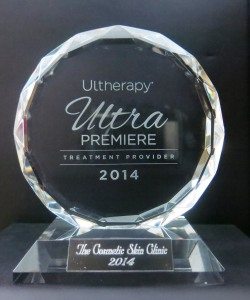 Mr Backhouse was delighted to present this award on behalf of Ultherapy to Dr Tracy Mountford as it was such an achievement to receive this award within just 6 months of purchasing her first Ultherapy machine. He also congratulated Dr Mountford on being the first clinic in the UK to own two Ultherapy machines, which in itself is an exceptional record of achievement.
Dr Mountford says "I was very honoured to receive such an award for this ground breaking ultrasound technology; my patients are overwhelmed with their results and the immediacy of what they see post treatment. I had a patient just the other day that had looked for a solution for her ageing neck for years and was really overwhelmed with her results from Ultherapy.
 What makes Ultherapy so impressive and so effective is that it tightens at 3 different levels; one of the levels being 4.5mm which is at the SMAS muscle level which surgeons tighten when they perform a face lift. This is the only technology which penetrates so deeply. It also tightens at 3mm and 1.5mm. After seeing such impressive results, I soon realised the need to offer this in my London clinic as well as my Buckinghamshire clinic and thus far we haven't looked back!"
For more information regarding Ultherapy telephone 01753 646 660.