By Dr. TRACY MOUNTFORD, MBBS MBCAM

New Year resolutions come and go but they mainly fit into the same category of detox, weight loss and new exercise habits. We are essentially fixed on good health and looking trimmer once we've turned out back on Christmas pudding and New Year's Eve champagne.
The reality is our resolutions aren't that easy to keep, not because we don't try but because often the results don't match the effort. How many of us have put in a lot of effort and seen a bit of a difference, enough to make us relax for a moment only to see the hard work and effort completely blown.
Essentially if you are someone who eats well most of the time, considers yourself moderately fit but are struggling with stubborn areas of fat then the only resolution you need to make is to make an appointment with us to assess your suitability for CoolSculpting. In shorthand are you fed up with muffin tops, back fat and inner thigh fat? If so give us a call.
CoolSculpting is a new revolutionary fat loss tool in the non-surgical world. It is so cool there is no knife, no needles and no hiding away.  The results are; long lasting, durable and with no downtime. Does it sound too good to be true? (See Nicky Isards Coolscupting Video testimonial)
Initially all you need to do is have an assessment of your stubborn fat areas. We examine you and advise on what areas are suitable for treatment. We then discuss the treatment and how it works. We will also advise you on how we can achieve the best results to contour your body in the most effective way.
In simple terms CoolSculpting freezes your fat cells and then these are naturally dispersed from the body over a 60 day period. The process is straightforward in terms of application and aftercare. On the day of treatment, apart from having or wearing relaxed fitting clothes to go home in, there is nothing to think about or do other than to turn up. The beauty of it all is that you can even drive yourself home.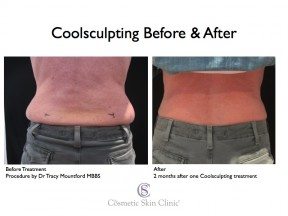 Ideal areas to treat are; abdomen, muffin tops, love handles, back fat, inner thigh fat and even bingo wings.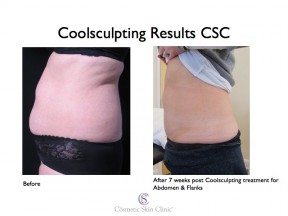 Women and men who have experienced the CoolSculpting treatment have all been amazed at the simplicity of the procedure. The experience of treatment itself has only elicited comments of mild discomfort regarding three elements of the process; the application of the cold gel, the initial suction of the fat in the area being treated and the post treatment massage. Whilst treatment is underway people choose to read a book or magazine, listening to music or as one mum did; took the opportunity to have a sleep!
Our dedicated CoolSculpting treatment room is private and an oasis of calm. The only excitement is the fact you will be looking forward to a trimmer you without pacing the treadmill!
To book a complimentary (no obligation) consultation for Coolsculpting call 01753 646 660 quoting reference CoolsculptingCSC