By Dr. TRACY MOUNTFORD, MBBS MBCAM
Last night marked the launch of our first big event of the season at our flagship clinic in Buckinghamshire. The turnout was fantastic with attendees eagerly arriving from 6pm right through until doors closed.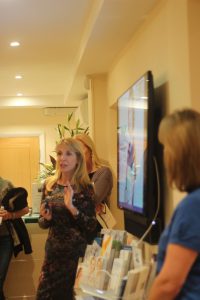 The evening kicked off with an opening talk from Dr Mountford, founder and Medical Director of The Cosmetic Skin Clinic, about the latest trends in cosmetic medicine, with particular focus on the new "Coded" approach to facial beautification. She discussed how in the past practitioners were simply "chasing lines" with facial fillers and treating the brow & frown lines too simplistically. This trend, says Dr Mountford, has gradually moved towards using strategically injected filler often in areas not previously considered to create a naturally balanced and refreshed appearance, enabling patients to age in exactly the way that they choose. With no overfill or 'done' look.
"I have completely changed the way in which I consult my patients. Adapting a strategic 360 degrees approach to the face is the best that cosmetic medicine can offer and results are impressive."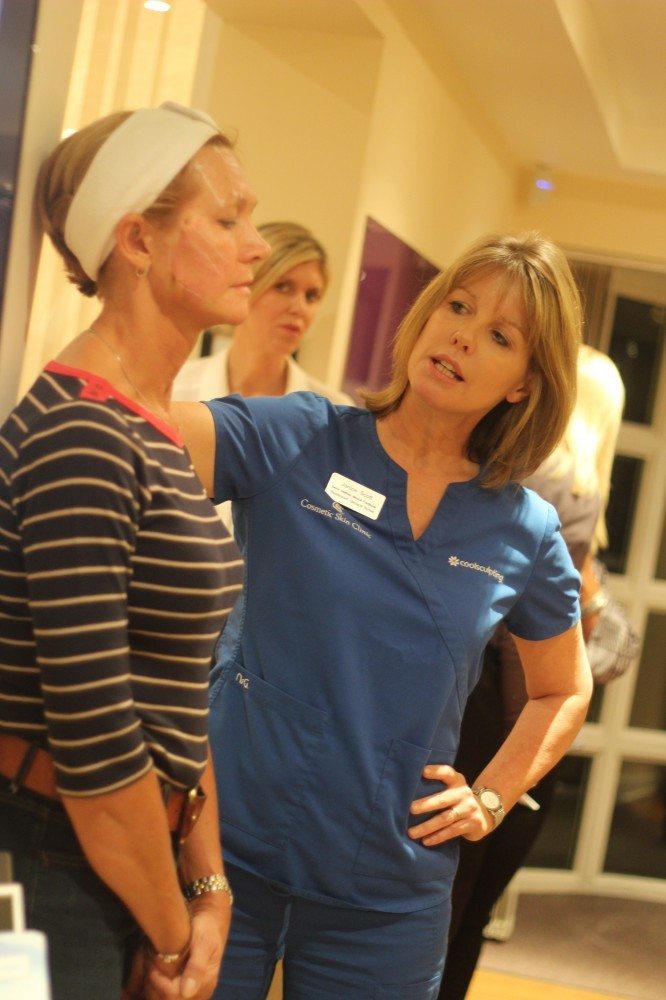 Dr Mountford's talk was followed by a live treatment demonstration for Thread lifting, where our specialist practitioner Janine Scott RGN initially treated one side of a patients face to show the direct before & after comparison, before whisking her away to complete the treatment. Following her treatment our patient Debbie was keen to share her thoughts…
"I am feeling really excited by my initial results and can't stop looking at myself in the mirror. although for 24hrs I mustn't over exaggerate movement in my face. I cant help myself as I want to grin from ear to ear!"
There was a brief presentation on Silhouette Soft Thread lifting, discussing the immediate and progressive results associated with this treatment option as well as addresing key questions regarding the treatment. The presentations were then focused on the incredible results that CoolSculpting patients are seeing with the new CoolMini applicator, showcasing our patient Tracy with her submental (double chin) results.
"Now that I have reduced the fat from my double chin, my overall face looks slimmer, giving me an overall more youthful appearance" Tracy 
Live Cosmetic Treatment Demonstrations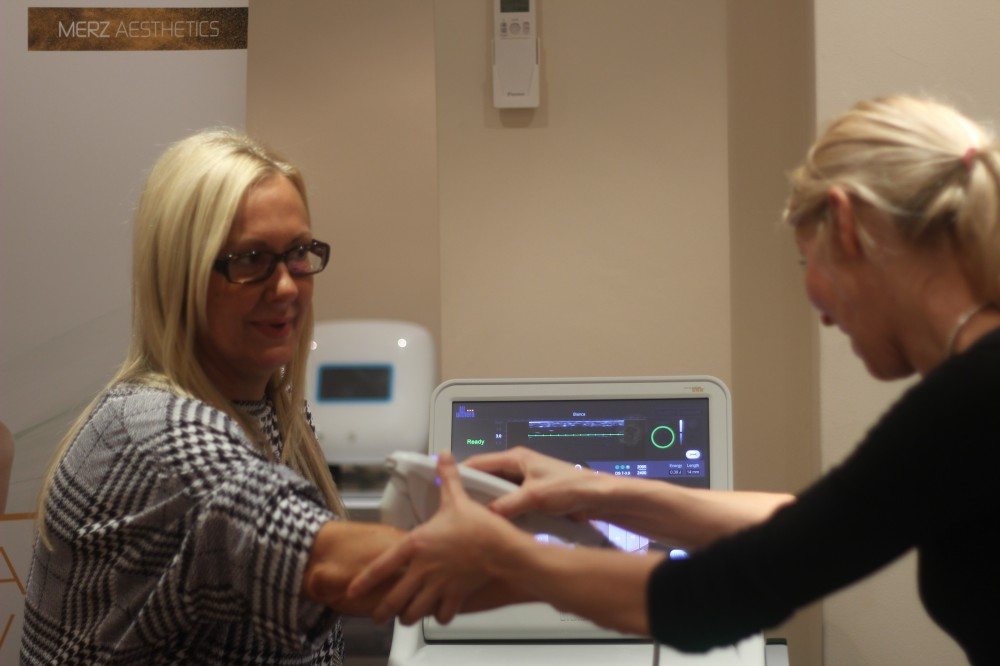 The second half of the evening consisted of a room rotation which allowed our Ultherapy, and CoolSculpting specialists to offer comfort demonstrations of their procedure. We used the Ultherapy device to allow patients to 'touch and feel' the sensations of the treatment. Across the clinic in our CoolSculpting suite, we demonstrated a full procedure including a suction demo with the CoolSmooth device for the outer thighs. In the final room, patients had the opportunity to look and feel the threads and cones which would be used during a Thread Lifting procedure as well as view and discuss with Debbie her immediate results. Each room also had a live patient testimonial of the respective treatment, allowing new patients to get a real insight into the pre, post and long-term results that they could achieve.
The room rotations proved insightful and valuable to those attending, with one new patient stating;
"What impressed me the most was how every practitioner that I spoke to advised only on which cosmetic procedure would be right for me." 
Don't forget, if you missed last weeks event we have another exclusive evening scheduled for Thursday 29th October (this week!) at our London Clinic. For more information and to book your place call 01753 646 660 or email us at [email protected]