By Dr. TRACY MOUNTFORD, MBBS MBCAM
The Beauty Triangle connects educated audiences with first-in-class practitioners from all corners of the wellness industry through inspiring yet intimate panel discussions. Curated by Francesca White, Health and Beauty Editor-at-Large at Tatler.
We were delighted to be invited to three Beauty Triangle educational events this year, with Dr Tracy Mountford, Dr Sophie Shotter and Dr Joanna Christou as part of the main panel discussing various aesthetic topics.
'Face The Future' held an expert panel consisting of Dr Tracy Mountford; Founder of The Cosmetic Skin Clinic, Dr Sohere Roked; Holistic GP and Hormone Expert and Dr Anjali Mahto; Consultant Dermatologist who discussed the various options to help you look fresher for longer. Dr Mountford also spoke about how we help our patients feel the best version of themselves by finding the balance between feeling confident and comfortable in your own skin. "We can use dermal fillers for beautification and enhancement, alongside technology treatments to achieve skin tightening with a disciplinary approach of 'just enough, but not too much' to achieve a balanced and natural look. It's about just making people look great, and I have this phase; 'held in aesthetic suspended animation' so that is what I like to see."
Dr Mountford also discussed the way people are influenced through just seeing people's faces whether it be on the TV, in person or on social media. When it comes to the face, at The Cosmetic Skin Clinic we strive to achieve symmetry, but keep that beautiful, natural look. "To me, the perfect toxin treatment still slightly moves, there's no raised eyebrows and there's nothing that's too much. It should just look natural and balanced. That is what I think aesthetic medicine is all about today."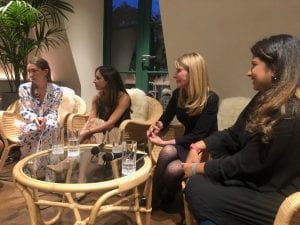 'Considering Cosmetic Surgery' saw Dr Sophie Shotter take to the panel with Richard Scawn; Oculoplastic Surgeon and Flavia Morellato; MLD specialist, talking about how cosmetic surgery and Tweakments go hand in hand. "So many people are curious about cosmetic surgery, and many people don't realise that surgical and non-surgical procedures often go hand in hand to get best results. It was great to be involved at The Beauty Triangle discussing how to prepare for surgery and how we can combine different treatments beautifully."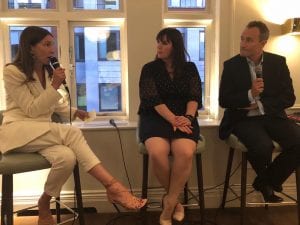 The last Beauty Triangle event of the year had Dr Joanna Christou on the panel alongside Dr Anjali Mahto and Tarryn Warren discussing 'Skin Confidence'. Dr Christou spoke about how skin confidence comes into the work she does as a cosmetic doctor. "It's the underlying structure of the face, getting the balance of all those things right which enables you to showcase your healthy skin." She explained that if you have healthy, plump, fresh skin but the soft tissue underneath doesn't support that, it's not going to look the best that it can look. The appearance of men and women as they age is constantly changing and so Dr Joanna explained how she supports these changes by understanding that the anatomy of someone is very complicated and differs from one person to another.
She goes on to say that you need to have a bespoke consultation assessment to look at what is happening to your face at that moment in time whether that be loss of bone density, elasticity, collagen or the loss of fat pads that support the face. "Having a really detailed and bespoke assessment is the important part, understanding what your concerns are and how to modify that. I always say that restoration is the way to look at things. Look at what has changed and restore that back to a vibrant, healthy look. Not younger per say, just healthier and well for their age. The best version of themselves."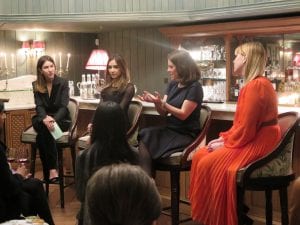 If you would like to know more or have a one to one consultation with any of our practitioners you can fill out an enquiry form.