By Dr. TRACY MOUNTFORD, MBBS MBCAM
With more Oscars selfies (literally, a self-photographed image) tweeted than ever before, it looks like A-listers are skin confident and happy to share their close-up phone pics with millions…in seconds; in fact, it's reported that one particular shot which you can view here featuring Brad Pitt, Jennifer Lawrence, Bradley Cooper, Meryl Streep, Julia Roberts and Kevin Spacey, actually caused outages on Twitter: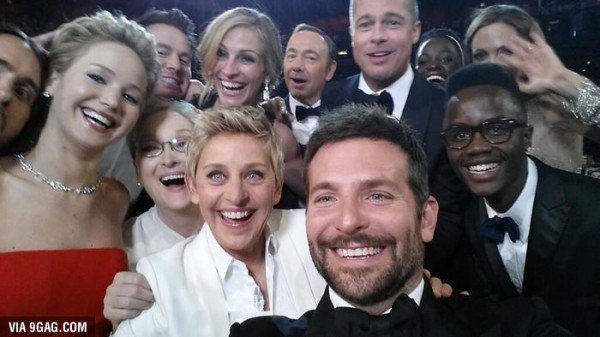 Over a million  people retweeted this image in just one hour! This particular seflie, with some of the most fresh-faced and beautiful people in the movie business has become the most tweeted image ever according to the Telegraph's reporters Patrick Smith and Charlotte Runcie.
Look closely, and notice that Meryl Streep, Julia Roberts and Jennifer Lawrence whose ages span 23 to 64, all seem to have the most amazing, immaculate skin.
As any established actress or budding starlet will know, plunging necklines, dazzling jewellery and strappy heels are nothing without the most important accessory – super-skin – and here's how to achieve it in time for your next BIG event. Give some thought to your beauty preparation and leave yourself a few months and you'll be amazed at what you can achieve; long-lasting, beautiful skin.
60 Days to go…tackle the turkey neck
INTRAcel is the sworn enemy of crêpey skin because it can really change the quality of your skin, tightening it in a way we have not seen before. It is a perfect combination of three of the most effective and cutting-edge anti-ageing technologies; radiofrequency, fractional technology and deep dermal micro-needling. Put an end to slack jowls, turkey neck and any crêpey skin. Superfine insulated micro-needles are applied to the skin, pin-pricking its surface, firing radiofrequency energy, to effectively boost the condition of your skin from the inside out.  The energy applied targets deep within the dermis (living layer) of the skin to stimulate collagen production whilst leaving superficial skin undamaged. You'll get a youthful tightening of the skin and an enviable glow.
One week and counting…slough off the old skin and welcome the new
o   A week before the big day, try the best thing for the war on skin resurfacing, Clear+Brilliant and it only takes 20 minutes per session. This gentle laser refreshes your skin from the inside out creating millions of microscopic treatment zones in your skin to encourage the replacement of damaged skin with new, healthy looking tissue. Cleverly, after the Clear+Brilliant procedure it allows potent cosmeceuticals to be delivered straight into the skin for a double whammy of benefits, on both the superficial and deeper levels of the skin. Optimal results can be seen after a course of four to six treatments however you'll definitely achieve a glow even with your very first experience. Check out our case study of Suzanne Dando here to see the amazing benefit of Clear+Brilliant…
The day before…wake up with more youthful looking, refreshed eyes
Experience a one-off treatment of Pellevé to help reduce the look of fine lines and wrinkles and to help boost collagen production in the delicate eye area. A constant delivery of radiofrequency energy deep into the skin causes a build-up of heat which encourages the production of new collagen over time. Allow three weeks for best results but there is a fabulous firming boost just after being treated so Pellevé is a great day before pick-me-up and results can last a full *year! (*If three treatments are performed on a monthly basis). There's no downtime and it feels like a glorious, warm massage. Beauty Editor Olivia Falcon recently recommended Pellevé on Sky Channel 283's The Safe Guide to Nip & Tick.
For more information about the treatments available at the Cosmetic Skin Clinic or to book a consultation, contact us on 01753 646 660.