By Dr. TRACY MOUNTFORD, MBBS MBCAM
Dr Tracy Mountford of The Cosmetic Skin Clinic gives her expert opinion to fabafterfifty followers on 'How Does Our Face Age', and how do we restore 'The Triangle of Youth?'.  The lost 'Triangle Of Youth' is one of the biggest age giveaways for men and women over a certain age and Joanne Owens (featured below) is testament to that, until she discovered there were treatments available out there, without the need for surgery, to counteract the ageing process, but still leaving her looking her natural self,  just fresher and younger looking.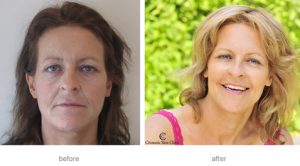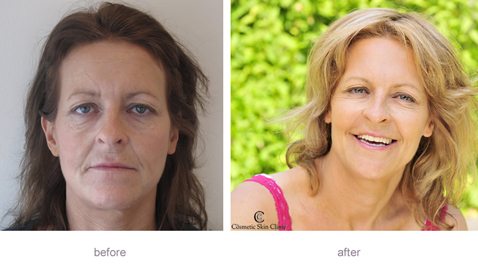 Dr Tracy Mountford performed the cheek enhancement with Juvederm® Voluma® and Janine Scott Senior Aesthetic Practitioner of  The Cosmetic Skin Clinic performed the rest of the facial rejuvenation.
Treatments performed by The Cosmetic Skin Clinic:
Joanne had a subtle cheek augmentation to create a mid-face lift, combined with Juvederm facial fillers to the nose-to-mouth lines and the corners of the mouth to tip the mouth up and generate a lower lift to the face. Soft lip enhancement to eradicate the 'hard' look and muscle relaxants to to soften the frown lines and crow's feet. The overall effect is stunning.
Dr Tracy Mountford says……… "In the last 5 years the trend has changed; the key is  to not look like you have had something done. It is about the 'make-under' rather than the 'make-over' effect".
Always do your research to find a qualified non-surgical cosmetic doctor/practitioner and ask to see certificates of training in this field and 'before and afters' of their work when selecting a clinic of your preference. They should be members of appropriate professional bodies such as the BACD (British Association of Cosmetic Doctors) RGN (Registered General Nurse).