By Dr. TRACY MOUNTFORD, MBBS MBCAM
How many times have you embarked upon a regime that will cost you money, time and hours of willpower? How many times have you floundered after a few days or a few weeks of a diet or exercise kick? Would you say that you are a fit and healthy person who is always looking to lose those stubborn 7 or 10 pounds of weight? When you do lose a few pounds is it really from those stubborn areas of fat on your midriff or hips and thighs?
All of these questions have one simple answer CoolSculpting. The reality is fat rarely responds in the way we like it to with diet and fitness. Until recently there has been no effective non-surgical answer to fat removal. CoolSculpting targets specific areas and more, in reduction of muffin top, love handles, back fat and even inner thigh fat. The procedure requires no overnight stay, involves no needles and there is no downtime as you can get on with your normal life right after the treatment is done.
CoolSculpting works by freezing fat cells which are then expelled from the body naturally.  The medical teams at The Cosmetic Skin Clinic are seeing superb results for both men and women on stubborn fat areas. Currently The Cosmetic Skin Clinic is the biggest user of this revolutionary procedure in Europe.
Recently fashion writer Kate Battrick after years of putting up with muffin top and love handles from having three children embarked on a  CoolSculpting treatment with incredible results. As she outlines the difference has made an enormous impact on her confidence.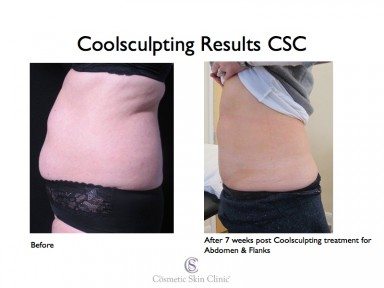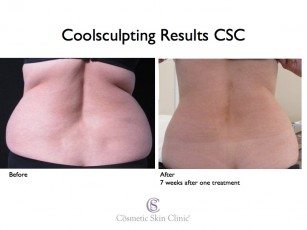 "I had no idea what to expect really even though I was thoroughly explained about and understood how the treatment worked. The reason I am still flabbergasted is the results were wonderful. I have completely lost the excess of fat which would not shift unless I resigned myself to a life of carrots and water! It didn't matter how much I monitored my food intake or exercised, my muffin top was the confirmed enemy.
 "Now I am enjoying the fact all my lovely clothes fit me perfectly once again and I look a million dollars in them. All my dresses, skirts and trousers fit perfectly and a vintage white pleated Dior which has hung unworn for years can now get an airing.  The difference the CoolSculpting treatment has made is immeasurable in terms of happiness and my new inner glow. I can't praise or thank the Cosmetic Skin Clinic team enough, especially for their wonderful post treatment tips which makes all the difference to the results!'
Kate is one of our many happy patients who have shared their testimonials about the success of CoolSculpting, perhaps you would like to join this club! Call us on 01753 646 660 to arrange an assessment of your suitability for CoolSculpting fat removal treatment.