By Dr. TRACY MOUNTFORD, MBBS MBCAM
Why buy Dad a necktie to celebrate Father's Day? Give him something he really wants that will help restore his looks, keep him looking sharp and that will last and last.
Help him get his rugged, chiselled jawline back with these completely non-invasive treatments. Ultra-sound based treatment, Ultherapy, lifts sagging skin to really make a difference to the definition of the chin and jawline whilst radiofrequency treatment, Thermage tightens up his slack skin on the jaw and neck to perfection…and there's NO DOWNTIME. The result, is a jaw that Brad Pitt himself would envy.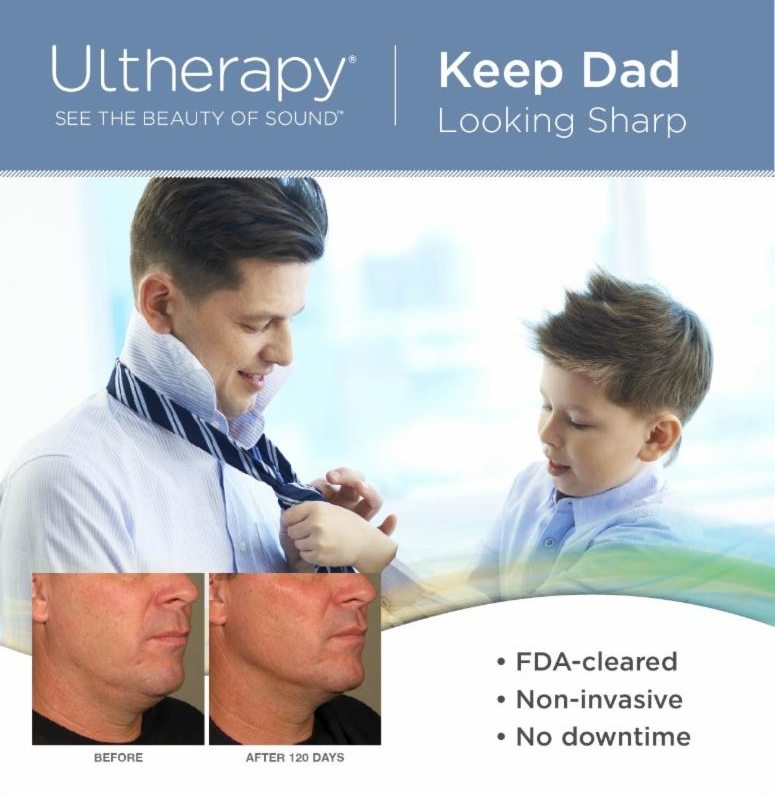 Ultherapy – the FDA-cleared magic jawline and neck lift
Post-treatment, within three to six months your body produces new collagen which helps plump and therefore lift the skin from the inside out improving the skin's laxity and that is with just one treatment! With over 100,000 treatments conducted worldwide you can be sure that Ultherapy is safe and results are well documented, it's suitable for all skin types and tones. Check out some of the before and after case studies on our website to see why everyone's so excited to welcome Ultherapy to The Cosmetic Skin Clinic. https://www.cosmeticskinclinic.com/premium-brands/ultherapy/
Thermage – the FDA-cleared wonder of skin tightening
This radiofrequency patented technology works by safely heating the layers of your skin, stimulating existing collagen and promoting new collagen growth for younger looking skin. This results in firmer, tighter skin and instantly improves the appearance of the face and neck. A one-off treatment of Thermage smoothes, tightens and contours the skin. The optimal effects of this treatment are apparent and continue improving for up to 6 months and can often last for up to a year 18 months. The Cosmetic Skin Clinic has been awarded 'The Highest User Of  Thermage In The UK' 3 years running!
For more information and to watch some of our case study videos, click on to https://www.cosmeticskinclinic.com/premium-brands/thermage-cpt/
There isn't a Dad around that wouldn't like to have his younger looks back this Father's Day!
To book a consultation to see which treatment is best for him, contact our reception team on 01753 646 660 or fill out the enquiry form here