By Dr. TRACY MOUNTFORD, MBBS MBCAM
Rosacea is a long-term inflammatory skin condition that mainly affects the face. This chronic condition affects 1 in 10 people in the UK and is more common in women than men. Key symptoms include redness across the nose, cheeks, forehead and chin, as well as a burning or stinging sensation when washing or using skincare products. People with lighter skin tones are also more likely to suffer the worst redness symptoms. Unfortunately, the causes of rosacea are unknown, and there is currently no permanent cure.
Thankfully, new non-surgical treatments can treat the symptoms. In this article, we discuss these treatments in detail, explaining how they minimise rosacea symptoms and help patients get back on a path to clear and beautiful skin.
What is rosacea and how can we treat it?
Rosacea is a common, acne-like inflammatory skin disease that affects a considerably large number of people. It is estimated that 45 million people suffer from the disease worldwide, and it flares up most in Caucasian people with lighter skin tones. Hollywood celebrity Cameron Diaz is known to suffer from the condition as well as former US President Bill Clinton. Typical rosacea symptoms include red or pink facial skin that is dotted with small, dilated blood vessels. The condition can also worsen over time, leading to the development of small red bumps or cysts that can sometimes contain pus. A range of 'triggers' increase the likelihood of rosacea occurring. The first part of any good rosacea treatment programme is to therefore reduce exposure to these key triggering factors.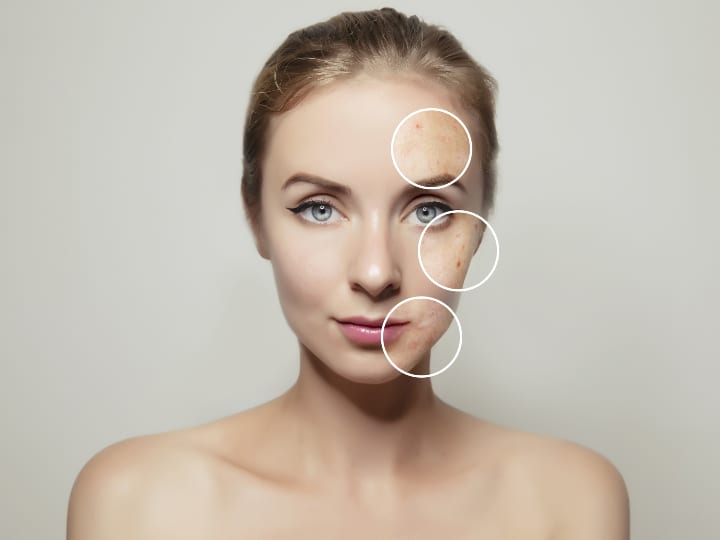 Top Rosacea Triggers
The exact cause of rosacea is unknown. However, several environmental and behavioural triggers increase the likelihood of a rosacea flare-up. Sunlight and the use of hairspray are two key rosacea triggers. Other top triggers include:
Alcoholic drinks – studies have suggested rosacea is more common in people who regularly drink alcohol
Eating spicy foods – hot sauces, spices and vinegars can cause redness to flare up
Foods containing high levels of histamine – (for example, cheese, cream, chocolate, nuts and citrus fruits) – histamine can make facial blood vessels more permeable and swollen
Hot drinks – heat causes vasodilation which makes rosacea worse
Aerobic exercise like running – overexertion during exercise routines can dilate blood vessels in the skin and lead to rosacea flare-ups
How to treat rosacea naturally
Patients can use natural remedies to treat mild rosacea symptoms. However, it is always important to get a medical assessment of your rosacea condition as it could be a sign of an underlying illness like eczema or lupus. This is why it is important to seek a consultation with a trained medical practitioner to assess your treatment needs first.
If your rosacea symptoms are not too extreme, then the following natural remedies may help to alleviate redness and inflammation:
Aloe Vera: Aloe vera is a natural emollient and moisturiser that relieves skin inflammation
Turmeric: add this anti-inflammatory herb to food or take it as a tablet
Chamomile: many scientific studies have shown that chamomile can calm the skin by minimising blemishes and redness
Coconut Oil: Coconut oil is an anti-inflammatory and antioxidant moisturiser. It can also help to combat dry skin, which can sometimes be a key side effect of rosacea
Niacinamide: Niacinamide is an essential B vitamin that prevents and relieves skin flushing. Common sources include green vegetables and eggs.
Green Tea: Green tea is rich in antioxidants which help to reduce inflammation. Make it as a tea or use it as a cold compress against the skin to reduce symptoms
Anti-inflammatory foods: choose foods filled with antioxidants and B vitamins like kale, ginger and avocados
Sunscreen: always protect your skin against harmful UVA and UVB rays with a daily SPF moisturiser to prevent rosacea flare-ups
Reduce stress: the stress hormone cortisol can increase body inflammation, so by reducing your stress triggers through relaxation techniques like yoga or meditation, you can prevent a toxic cortisol build-up in your body
 Non-surgical rosacea skin treatments
In more severe cases, patients may have to seek more targeted medical treatments to alleviate their rosacea flare-ups. Rosacea also gradually worsens with age. Many patients report a worsening of their symptoms after their first rosacea flare-up, and if left unchecked, more visibly distressing symptoms can occur like yellow patches on the skin, sore eyelids and crusts around the eyelashes, and a thickening of skin around the nose area.
Use the following top treatments to take control of these worsening symptoms and prevent future rosacea flare-ups from happening:
Topical Anti-inflammatory creams
Treat mild to moderate cases of rosacea with prescription creams or gels that alleviate redness and inflammation. Brimonidine (Mirvaso) and oxymetazoline (Rhofade) reduce redness by constricting blood vessels. Patients can often see results in under 12 hours. However, the effect of creams is only temporary, and some people can experience burning sensations and headaches after repeated use of such treatments.
Lumenis IPL
IPL Photorejuvenation therapy is a light-based treatment that shrinks inflamed blood vessels and reduces redness, pimples and uneven skin tones. It uses filters to produce intense pulses of light energy that work to deeply penetrate the skin. Blood coagulates and disperses as a result, while fresh collagen stores are rebuilt to bring strength and vitality back to the skin. Visible skin improvements can occur in just 2-4 weeks post-treatment.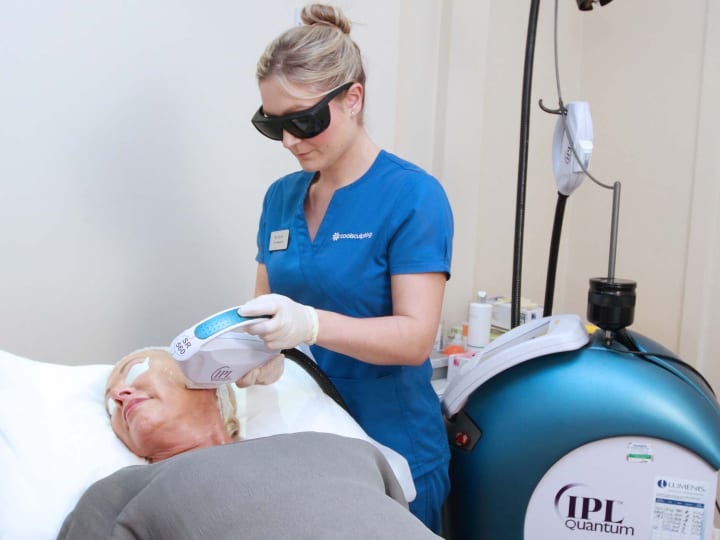 Forever Young BBL
Forever Young BBL™ is a non-invasive treatment option for a variety of skin pigmentation issues. Its revolutionary Sciton laser system is one of the most powerful in the aesthetics industry, delivering BroadBand Light (BBL)™ energy in a highly focused way to revitalise damaged skin cells and stimulate healthy skin renewal. Studies at Stanford University have shown how the treatment has the power to functionally rejuvenate damaged skin cells while also contracting existing collagen and elastin stores. When used to treat rosacea, BBL targets haemoglobin the blood to collapse and shut down the small superficial blood vessels that cause the skin to look red and inflamed. The skin builds back firmer and fresher as a direct result, with visible improvements and tonal rebalancing showing through in just a few days post-treatment.
The heat energy also encourages the body to reproduce new collagen and elastin stores. This gives the skin better strength, bounce and elasticity. It therefore serves a dual purpose; it can both reduce rosacea pigmentation while also helping skin to look more luminous, fresh and youthful-looking. Best of all, it's a super quick treatment, taking as little as 15 minutes to complete with zero downtime.
Cosmeceuticals
Cosmeceuticals are premium medical-grade skincare ranges that offer additional benefits than standard rosacea prescription treatments. These skincare ranges contain much higher concentrations of active ingredients to help skin cells renew themselves at a much faster rate. Luxury skincare label Obagi offers one of the best rosacea treatment creams available in the UK. The Obagi Nu-Derm Fx® System is a highly effective, comprehensive skincare system that minimises hyperpigmentation, acne-prone skin and the tell-tale signs of ageing. Redness is targeted with its active anti-pigmentation and skin-brightening ingredients like Arbutin. Natural antioxidants and exfoliants then hydrate and nourish the skin to leave it smooth, clear and completely blemish-free.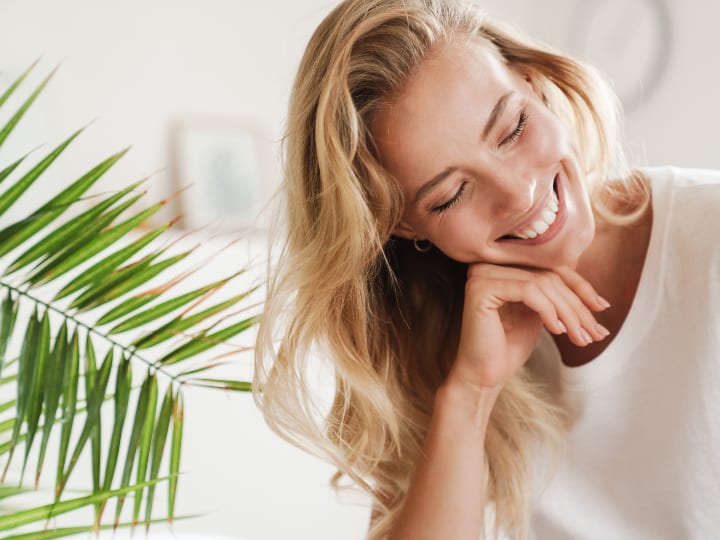 How to treat rosacea spots and acne
Patients are also more likely to suffer acne breakouts and pustules with rosacea. Sometimes the only option is to treat these breakouts with antibiotics to clear them. Tetracycline or doxycycline is often prescribed in these cases to minimise excess sebum production and reduce inflammation. The Forever Young BBL system can also be used to target overactive sebaceous glands and prevent future flare-ups. Oils are broken down during the heating process, and the sebaceous glands are unclogged, leading to fresher and more radiant skin in the process.
UK Leaders in Rosacea Treatments
The Cosmetic Skin Clinic is an award-winning cosmetic medical practice with years of experience in helping patients minimise their rosacea symptoms. We have a 5 Star Patient satisfaction rating on Trustpilot and are one of the only clinics in the UK to offer the advanced Forever Young BBL system. To find out more about our rosacea treatment programmes, contact our London and Buckinghamshire clinics on the following numbers: +44 1753 646 660 (Buckinghamshire) or +44 203 319 3637 (London). Alternatively, you can fill out our online contact form and we will get in touch to help.