By Dr. TRACY MOUNTFORD, MBBS MBCAM
A nose job is one of the most in demand cosmetic procedures, but what turns many patients away is the risk of complications and being stuck with results you are not happy with. As a safer and just as effective treatment, a non-surgical nose reshaping, also referred to as liquid rhinoplasty, is a great non-invasive alternative. With a lot of information out there, we break it all down so you can make an informed choice to be an enhanced and refreshed you.
What is a Non-Surgical Nose Reshaping?
A non-surgical nose reshaping is a dermal filler procedure that can reshape the contours of the nose.
How does a Non-Surgical Nose Reshaping work?
When it comes to the complex structure of the nose and wanting to reshape it, it needs to be acknowledged that most of what we see is thanks to shadows. Hyaluronic Acid based Dermal Fillers are usually used in a non-surgical rhinoplasty for instant results.
What happens in a non-surgical nose job treatment?
At The Cosmetic Skin Clinic, we inject small amounts of facial filler beneath the surface of the skin. The facial filler is placed precisely based on whether the goal is to straighten the nose or change the nasal shape.
Dermal fillers can also treat the nose tip to create an upturned appearance. At the end of the procedure, your medical practitioner will massage the treated area to finalise the reshaping of your nose.
What nose shapes can be targeted with a non-surgical rhinoplasty?
There are a number of areas that hyaluronic acid filler can treat a misshapen nose. A non-surgical nose job can target concerns such as:
A slightly crooked nose
Defining a nose tip
A hooked nose
Asymmetric noses
Nose bump
Wanting to add more height and definition
Wanting to build up a small nose
Mild to moderate nasal tip droop
A non-surgical rhinoplasty can even help to refine a nose after a surgical rhinoplasty operation.
What are the benefits of a Non-Surgical Nose Reshaping over a Surgical Nose Job?
Both surgical and non-surgical nose reshaping treatments can reduce bumps, improve symmetry, and reshape the tip. However, there are many benefits to a non-surgical nose reshaping over a surgical nose job including:
Pain factor | A non-surgical nose reshaping is a lot less painful.
Risk | There is less risk with a non-surgical nose job. A surgical nose job carries more risks such as scarring and loosened nose cartilage.
Recovery time | The non-surgical route requires little to no downtime. A more surgical route requires longer recovery time with a hospital stay.
How long it lasts | The surgical nose job results are permanent. Non-surgical nose job results are non-permanent and can be reversed.
Side effect of swelling | A positive of non-surgical nose reshaping is that any light swelling lasts from 1 to 4 days. Whereas a surgical nose job caries the risk of potential swelling for several months.
Cost | A non-surgical nose reshaping is less expensive than a surgical nose job.
Treatment time | Non-surgical nose reshaping treatment can take approximately 30 minutes.However a surgical nose job can take up to 3 hours.
What to expect after your treatment?
The best thing about a non-surgical nose reshaping is the little or no downtime. So, you can resume normal activities right away.
At most, after your treatment you can expect there to be a chance of a little light swelling. However, you can camouflage it with makeup, but our practitioners do make it clear that you should avoid any makeup or touching the treated area for six hours to avoid any potential infection.
Before and after non-surgical nose reshaping
The image below shows how effective a non-surgical rhinoplasty using dermal fillers can be. Our patients' result shows a straightened nose without evidence of the nose bump. The treatment was performed by The Cosmetic Skin Clinic.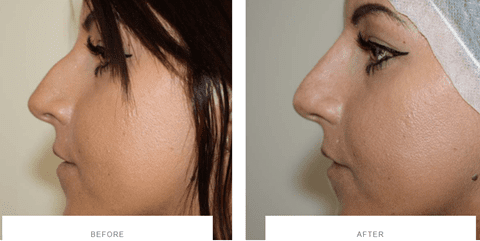 Disclaimer: Patient experience and results may vary. These are dependent on a number of factors such as lifestyle, age, and medical history.
How long will my results last?
This procedure uses dermal fillers to achieve a reshaped and improved nose appearance. Dermal fillers are not permanent and will break down over time. Depending on the area being treated, dermal fillers can break down in approximately 9-12 months. To maintain your results, top-up treatments might be required.
What happens if I don't like my results?
In an interview with Vogue, Bella Hadid revealed her regrets about getting a nose job so young and says she wishes she "had kept the nose of my ancestors." With a non-surgical nose reshaping that uses hyaluronic acid dermal filler can be dissolved.
At The Cosmetic Skin Clinic, when creating a natural looking reshaped nose, we take a subtle approach. The nose is a vital focal point on our faces, so we always recommend you build on the effect with follow up treatments. Every visit will be tailored so you can achieve your desired nose shape in a subtle and soft way.
Non-surgical rhinoplasty at The Cosmetic Skin Clinic
At The Cosmetic Skin Clinic, we only use the safest and most effective FDA-approved naturally biodegradable nose dermal fillers. We achieve great filler results with our expertly trained practitioners. It is our bespoke approach that allows us to subtly enhance and improve your concerns yet leave you looking revived and keeping the essence of you.
If you want to change the shape of your nose but don't want to have surgery, non-surgical nose reshaping is an excellent option. The nose is a delicate feature on our face and must be handled with care, in a safe environment with a trained expert. Our practitioners stand out from the rest for the results they create and our happy patients.
How to find us
For our non-surgical rhinoplasty treatment, you can book with our London clinic (8 Devonshire Place, London, W1G 6HP.) You can easily reach our renowned London clinic from the following surround locations:
West Brompton, Regents Park, Primrose Hill, Bayswater, Marylebone, Hyde Park, Green Park, Soho, Notting Hill, Fitzrovia, Holland Park, Earls Court, Kings Road, South Kensington, Kensington, Chelsea, Battersea, Fulham, Victoria, West End, Mayfair, Knightsbridge, Belgravia, Highgate, St Johns Wood, Westminster, Hampstead, Islington.
The nearest tube stations to our London, Devonshire Place clinic.
To find out more about our non-surgical nose reshaping treatment, call our London clinic directly on 0333 920 7762 or book your consultation here.