By Dr. TRACY MOUNTFORD, MBBS MBCAM
First you could just be Cool, but now you can be Dual Cool with the evolution of CoolSculpting into DualSculpting!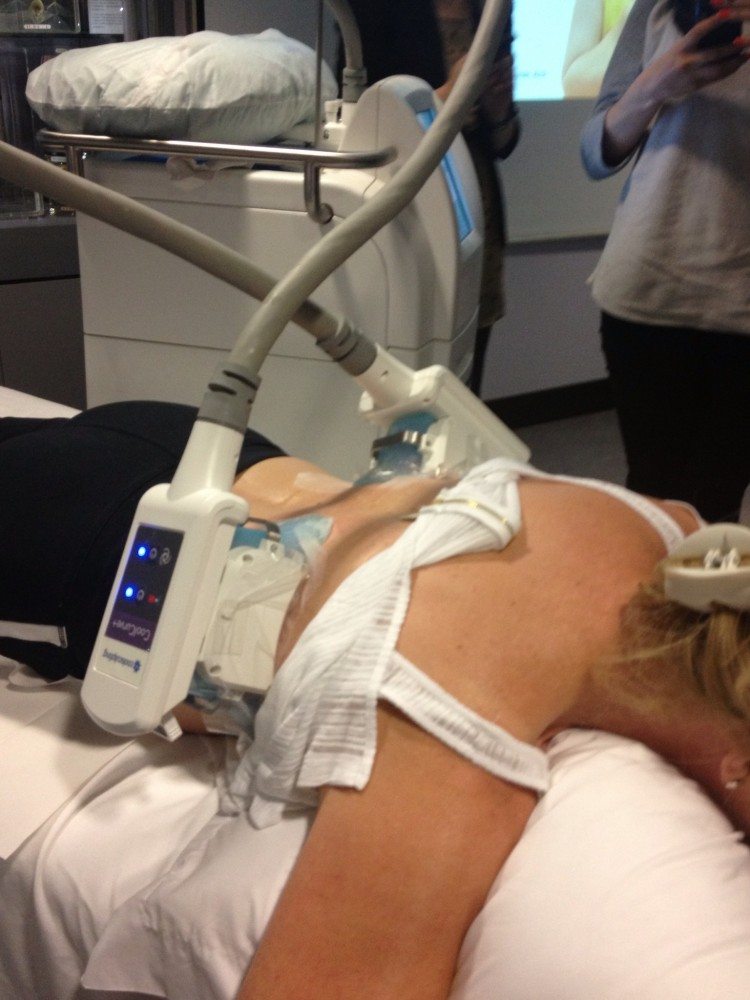 The launch of CoolSculpting® last year has seen impressive patient results. Cleared by the U.S. Food and Drug Administration (FDA) and CE Marked, CoolSculpting freezes unwanted fat cells in the body by inducing a natural, controlled reducion of those fat cells.  This scientific breakthrough is based on a vast body of Harvard research that demonstrates fat cells are more susceptible to cold and are selectively destroyed.  Results can be seen in two to four months.  Additional treatments in the same or multiple areas achieve even greater fat reduction.
Since CoolSculpting's launch at the Cosmetic Skin Clinic Dr Tracy Mountford has been assessing the results obtained by this non surgical treatment. Not only has the demand been high but the patient satisfaction is incredible. Given the demand  and the type of treatment ,Dr Mountford realised that certain areas could be treated simultaneously; "since I first began offering CoolSculpting at The Cosmetic Skin Clinic its popularity has continued to grow, and having two systems in the clinic helps me meet the incredible demand," said Dr Mountford, MBBS, MBCAM, founder and medical director of The Cosmetic Skin Clinic.  "My patients are thrilled to reduce the length of treatment time in half and still achieve the body contouring results they want non-surgically with dual CoolSculpting, which we are now referring to as DualSculpting."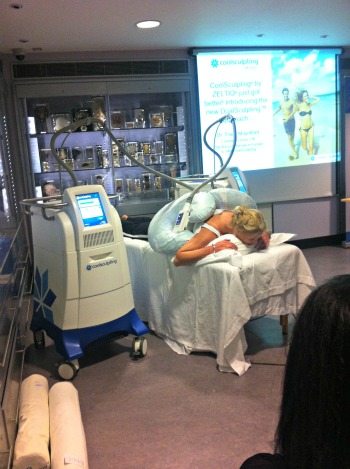 Last week with CoolSculpting® l by Zeltiq brand ambassador Nicky Hambleton-Jones, Dr Tracy Mountford presented to a group of journalists eager to learn about the effects of CoolSculpting and the fact that she had developed its use further to improve treatment time and impact. As well as a patient there to talk about the results from her Cometic Skin Clinic CoolSculpting treatment, the DualSculpting option was demonstrated on another patient over the area of the back.
In response to the questions on the results, suitability and efficiency of the treatment, Dr Mountford clarified that 'any area of stubborn fat or an area of fat can be treated  resulting in a significant 30% reduction of the total area of fat pockets.Women who are peri-menopausal find their waists thickening and fat deposits appearing in areas that cause them concern due to hormonal changes experienced.'
Nicky Hambleton- Jones added, 'For lots of women fitting into their clothes with ease rather than having to go up a dress size or buy items that compromise their style means that CoolSculpting is the perfect choice for fat reduction. Exercise and diet often takes its toll on the face with fat loss happening to an area you need to remain looking plumped up. CoolSculpting gives women and men the option to not have to choose between the face or body.'
DualScuplting is available at the Cosmetic Skin Clinic. CoolSculpting is FDA cleared for non-surgical body contouring treatment that freezes and reduces fat from the body.  There are no needles, no special diets, no supplements and no downtime.  During the procedure, a non-surgical applicator delivers precisely controlled cooling to the treatment area to specifically target underlying fat without harming surrounding tissue.