By Dr. TRACY MOUNTFORD, MBBS MBCAM
Dare to bare your arms this Summer?
We all have areas of our body that bother us. And with Summer here, it can make us feel even more self-conscious than ever about exposing it! Excess fat on the arms is the 3rd area of most concern in the UK and is notoriously difficult to lose through diet and exercise. So, it's fantastic news that CoolSculpting has introduced a new member to its applicator family – the CoolAdvantage Petite™.
This nifty little device has been specifically designed with two interchangeable contours to effectively treat the unique shape of the upper arms. *As well as producing impressive results on the arm area, it's also versatile enough to tackle those small pockets of fat on other areas of the body that are hard to reduce.
The fat cells affected by treatment are naturally processed and reduced from our body; as long as you maintain a healthy lifestyle, long term results should remain stable.
Here at The Cosmetic Skin Clinic, we are proud to be the 1st and only clinic in the UK to have this innovative new applicator. It allows us to treat the tricky upper arm area in just 35 minutes and we are already seeing impressive results.
With 39% of the UK population expressing concern with excess fat on the arms, this is the third most popular area for people considering non-invasive fat reduction.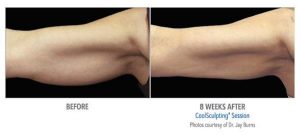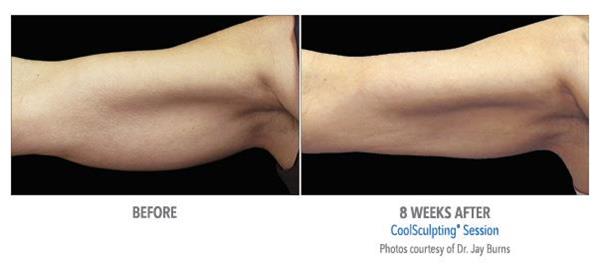 CoolSculpting is clinically proven to be a safe and effective treatment for non-invasive fat reduction. It has been FDA-cleared to treat the abdomen, flanks, thighs, submental (double chin), upper arms, bra and back fat. To date, we have performed over 8.500 treatments making us the No. 1 CoolSculpting clinic in the UK and Europe. And with over 4 million treatments worldwide, CoolSculpting in the number one non-invasive fat reduction treatment.