By Dr. TRACY MOUNTFORD, MBBS MBCAM
Dr Tracy Mountford and her team were invited to take a 'major part' in The Anti-Ageing Show at Olympia in London last weekend. Dr Tracy Mountford delivered key talks on both days, to packed audiences of mixed ages and genders. The talk was on 'Non-Surgical Cosmetic Enhancement of the Menopausal Face & Body' and was really well received.  The show was a huge success and the first of its kind in London for quite some time.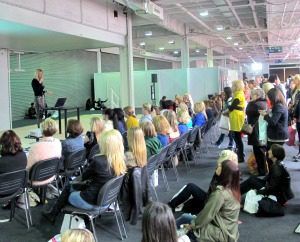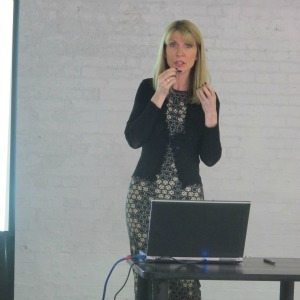 We ran two very busy stands, one for non-surgical anti-ageing treatments and the other – which proved to be the real star of the show, was  'CoolSculpting' which we demonstrated hourly. Coolsculpting is a non-surgical fat loss treatment of which The Cosmetic Skin Clinic is the highest user in Europe. Since the show we have been inundated with enquiries for this treatment. All the models who were treated at the show are existing patients of The Cosmetic Skin Clinic and had undergone a  full medical examination and consultation before taking part.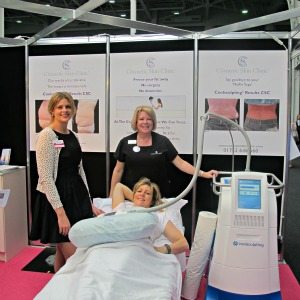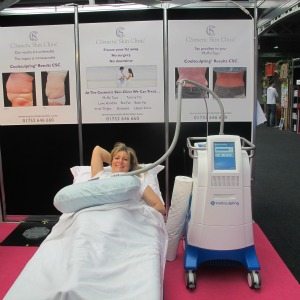 Ali (pictured above) from Henley-On-Thames was our first patient and was being filmed for Associated Press and was in a huge feature about Coolsculpting in the Sunday Telegraph newspaper. The results are yet to be seen and will take between 8 – 12 weeks to see optimum results of which we will bring an update in a few weeks time….
Other treatments profiled by us at the show were Thermage CPT radio frequency skin tightening & Clear+Brilliant skin rejuvenation treatment with the new 'Permea' head. The Thermage treatment used in combination with Clear+Brilliant is a wonderful skin tightening/skin boosting combo. The radio frequency of the Thermage helps smooth, tighten and contour the skin by stimulating the natural renewal of your own collagen in a single procedure. Whilst the Clear+Brilliant refreshes your skin from the inside out reducing pore size, improving tone, texture and radiance, also allowing deeper penetration of cosmeceuticals.
The biggest benefit to these treatments is no down time apart from a little redness which lasts a few hours with Clear+Brilliant. The results with Clear+Brilliant are seen after one week, with Thermage it takes up to 3 months to see optimum results although a lift can be seen at the time of treatment. (See Suzanne Dando's Clear+Brilliant video testimonial.) (Thermage video patient testimonial)
There is a huge interest in this winning combination treatment for brides to be, red carpet engagements and for the summer social calendar. As the necklines drop our patients want to achieve a natural look with the ability to wear lighter make up.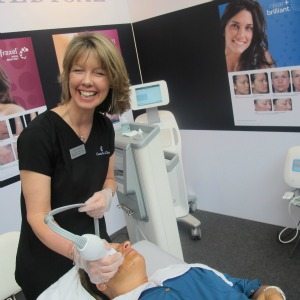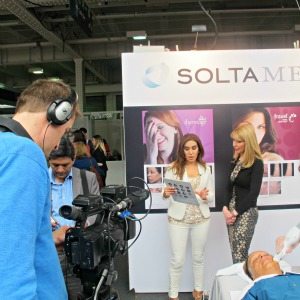 For more information on these or any of our other treatments please call 01753 646660 or fill out the enquiry form here.