By Dr. TRACY MOUNTFORD, MBBS MBCAM
As we head for our holiday destinations in our droves, The Mail On Sunday yesterday featured The Cosmetic Skin Clinic in an article 'Beach Body Emergency' profiling non-surgical treatment solutions such as Coolsculpting & Ultherapy to help fix those bulges and de-crinkle the décolletage with no special diets involved. In this article cosmetic doctor Tracy Mountford, was asked for her verdict on the various treatments reported on.
First up was Coolsculpting – fat freezing treatment, as a valid non-surgical way to lose inches. The article reported 'Studies have shown you can kill off upto 40% of fat cells' with Coolsculpting. The Cosmetic Skin Clinic was profiled as the 'where to go' destination to have this treatment of which we currently hold the highest user award 2 years running for being the No1 Coolsculpting Clinic Of Excellence – Western Europe.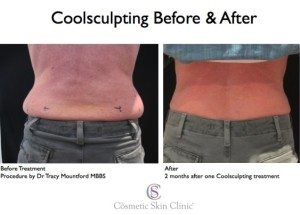 Another treatment to be profiled in this article for The Cosmetic Skin Clinic was Ultherapy, a treatment to 'Un-Crinkle Your Décolletage'. This was highlighted as a premier treatment option to rid yourself of crinkly lines on the décolletage, saggy knees and stomachs.
Verdict by Dr Tracy Mountford on Ultherapy was: 'Ultherapy is regularly used on the face with superb results and increasingly on the neck and the décolletage. Results are more impressive than anything I have ever seen non-surgically.'
See here what celebrity stylist Nicky Hambleton-Jones has to say about her recent Ultherapy treatment. To read the full article in the mail on sunday click on the link here. For more information on Coolsculpting or Ultherapy please call our reception team on 01753 646 660