As seen in InStyle magazine, Jennifer Aniston favours a non-surgical approach to skin rejuvenation, listing Ultherapy as one of her beauty favourites!
Ulrika Jonsson is another famous face sharing the benefits of Ultherapy after receiving treatment at The Cosmetic Skin Clinic.
"Staying natural is important to me which is why I went to Dr Mountford who recommended this course of treatment and I am delighted with my results!"  
Ulrika Jonsson – Presenter and TV personality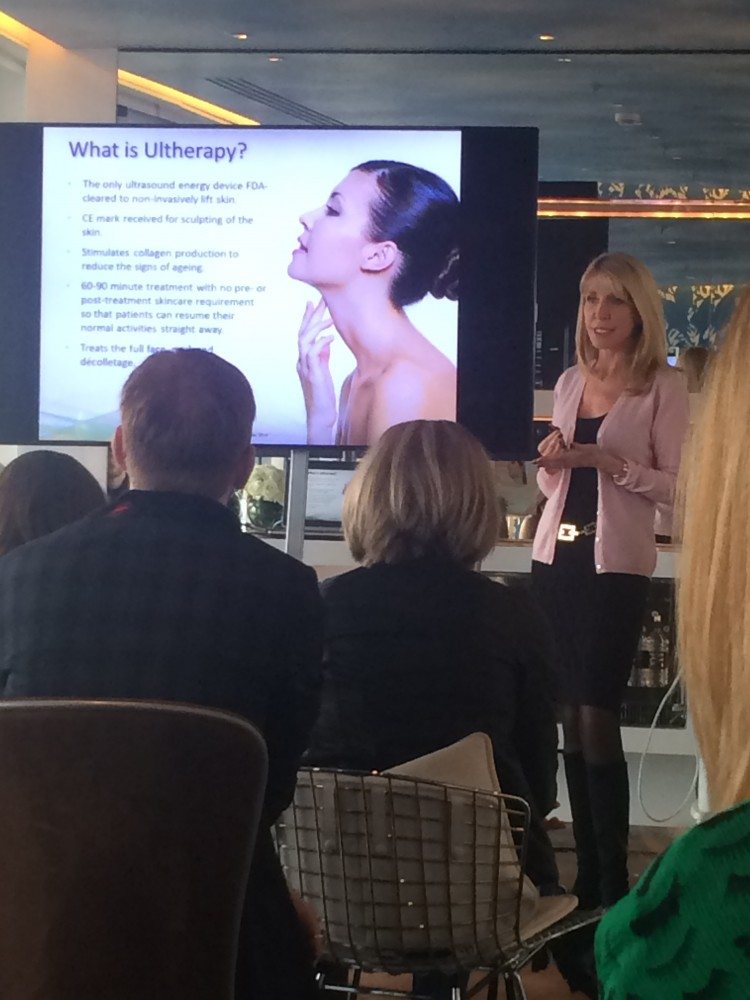 Dr Tracy Mountford was invited by Merz UK to meet the press at The Four Seasons Hotel, Park Lane to present to them how the Ultherapy technology works as well as illustrate its 'lifting' capacity for the face, neck and décolletage.
This event created a clear interest around Ultherapy, allowing those attending to gain a real understanding of the technology and engage not only with the brand and the specialist practitioners but directly with patients having undergone Ultherapy treatment.
Stuart Rose, Merz Pharma MD commented on this response stating…
"I think the interest we are getting from the journalists is greater than I have ever seen with a press event before."
Dr. Mountford echoed this sentiment in her comments…
"I think tonight's experience has benefited Ultherapy hugely, there is a genuine buzz of interest from the journalists and I think they will now talk about it more and be more receptive to what it does and the kind of results it delivers."
What is Ultherapy?
Ultherapy uses focused ultrasound technology to lift and tighten loose skin over time, without the need for downtime. The immediate results from this treatment are impressive and these only get better with time, in most cases Ultherapy lasts between 18 months to 2 years.
How does Ultherapy work?
Ultherapy is the only FDA-cleared 'lifting' procedure to non-invasively lift the eyebrow, neck and double chin and is now FDA-cleared to improve décolletage lines and wrinkles!
The Cosmetic Skin Clinic is the No. 1 clinic for Ultherapy in the UK and Ireland!
Our patients love it too!
"I'm absolutely delighted with the results I have had with Ultherapy. I've had treatments on my neck and face and I was amazed by the immediate results. I noticed lifting and tightening in both areas immediately and even 6 months later I still see great improvements."
Virginia Clarke – patient 
 "I was so delighted after my Ultherapy treatment, I could see tightening all along my jawline, it looked more sculpted again around the cheek area and the cheekbone. Immediately I saw a lift which was really wonderful"
Karra Beck – patient 
To find out more about Ultherapy call us today on  01753 646 660 to book your consultation with one of our specialist Ultherapy practitioners.