The Cosmetic Skin Clinic have this year been featured multiple times throughout the prestigious 'Tatler Beauty & Cosmetic Surgery Guide'. 
Dr Tracy Mountford has been featured as 'Best For Fillers' for the 4th year running in 'Tatler's Finest'. Here's what Tatler have to say about our very own Dr Tracy Mountford. 
Best For Fillers excerpt from The Tatler Beauty & Cosmetic Surgery Guide 2016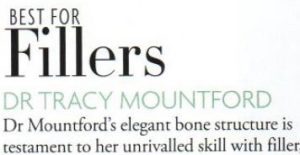 As well as being voted 'Best For Fillers', Dr Mountford was also featured within an article 'What Women Want'. This article explores how women really wish to look as they age and which treatments Dr Mountford recommends to achieve this naturally enhanced look – "Women tell me they want to look less saggy and more beautiful. No over-stuffed cheekbones. No frozen foreheads. They want to look in the mirror and see an appealing, attractive, fresher version of themselves" – Dr Mountford went onto say:
"Some of the most beautiful women in the world look like they have had nothing done… they just look stunning; this is our mantra"
Our team accreditations didn't stop there. This years 'Cosmetic Surgery and Beauty Guide' has for the first time also recognised the industry's leading cosmetic nurses, with one of our very own practitioners featuring as 'Best for Needle Free'
"One of the leading lights in the nursing industry… She was the first to perform Thermage (skin tightening) in the UK and is passionate about technology (lasers, radiofrequency and ultrasound)."
To add the cherry on the cake, The Cosmetic Skin Clinic also featured independently in this prestigious guide for the clinic's overall expertise in CoolSculpting fat freezing, voted 'Best For Double Chins' as well as featuring in an article titled 'Help! I want my body back'. The article follows our patient's experience with CoolSculpting, as she explores for the first time this revolutionary cryolipolysis technology, in a last ditch attempt to fight the battle of her post-pregnancy bulge.
"I woke up one morning about a week ago and it had gone. My stomach had vanished. Vamoosed. Leaving behind a perfectly flat, in the right light even taught, expanse."
For more information about any of the treatments referenced above contact our Reception team today on 0330 828 4668