By Dr. TRACY MOUNTFORD, MBBS MBCAM
The Daily Mail Nip & Tuck 13th March 2017
The Nip & Tuck articles by Dr Tracy Mountford appear weekly, in print and online in the Monday 'Inspire' section. In this week's column a reader asks how they can achieve a smooth tummy::
How can I get a smooth tummy before summer?
Dr Mountford explains that, as we age, the way fat is distributed on the body alters. Exercise can help tone muscle, but this only works if the skin on your stomach is not too lax or crepey. In severe cases, surgery may be needed, but otherwise she recommends Thermage CPT. It focuses radiofrequency energy to kickstart the body's own natural collagen renewal and repair, The process combines heat energy to treat the deep tissues while cooling the skin's surface to make treatment more comfortable. It has little or no-downtime and has long-lasting results.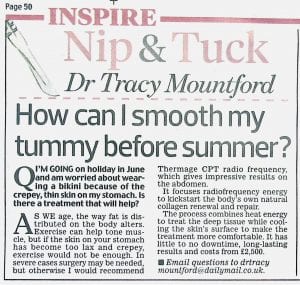 *DISCLAIMER Patient experience and results may vary. These are dependent on a number of factors such as lifestyle, age and medical history.
Copyright © The Cosmetic Skin Clinic. All rights reserved. Unauthorised use and/or duplication of this material without express and written permission from this site's author and/or owner is strictly prohibited. Excerpts and links may be used, provided that full and clear credit is given to The Cosmetic Skin Clinic with appropriate and specific direction to the original content.