By Dr. TRACY MOUNTFORD, MBBS MBCAM
How to fit into that 'Little Black Dress' this Christmas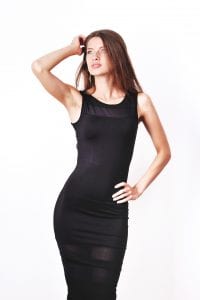 It's that time of the year again! Time to get organised and start thinking about presents to buy, put out the decorations and start planning the parties. Christmas is one of the most exciting times of the year, but can also be one of the most stressful. Some of us make those quick shopping trips on our lunch breaks, some spend several sleepless nights in bed with laptops to get it all done online, whilst others cram everything in on the last two days before the 25th. In the hustle and bustle of Christmas, we tend to forget about ourselves and all too soon the inevitable question pops up: "what am I going to wear?" Time to take that Little Black Dress out of the wardrobe, or better yet – buy a new one! But as ever, we still don't like the way it fits and looks!
At some point in our lives we have all stood in front of the mirror, holding in that extra bit of fat on our tummy, hoping someday we will find a quick and simple solution. Many of us have certain parts of our bodies that we are just not happy with. This may be because sleeveless exposes our arms, and body-con dresses just emphasise our rolls! With no time for the gym and very little time left until Christmas, this is when the panic sets in and we frantically think of ways to try and fit into that little black dress by Christmas. Extreme dieting is not healthy and we have no control over which parts of the body will lose weight. *One way of achieving a slimmer silhouette is CoolSculpting, a non-surgical body contouring treatment that reduces stubborn & diet resistant fat.
CoolSculpting, also known as 'fat freezing', this is a long term solution to reducing fat. It is the only FDA approved treatment for safe removal of fat cells. The procedure freezes the fat cells from the area being treated. In the weeks to follows, the fat cells are naturally reduced from your body. Results can be visible in as little as 3 weeks after the treatment, with optimum results at 8 to 12 weeks. However, your body will continue to flush out the fat cells for up to 3 to 6 months after the treatment.
CoolSculpting can be performed and targeted to re-sculpt and re-contour specific areas of the body. This includes muffin tops, love handles, belly fat, arm fat, back fat, bra fat, inner and outer thighs, moobs, knee fat, and even double chins. There are several different applicators that are used to perform the treatment, depending on the area to be treated. The CoolMini applicator is used to treat the smaller areas around the body, such as inner arm fat, known as the 'auxillary puff' (the fatty tissue between your bra and the front of the arm) as well as knee fat and double chins. CoolSculpting is a non-surgical procedure, so it does not involve sedation or general anaesthesia. *There is minimal if any downtime, so you can continue with your normal daily activities after the treatment. The results are long lasting, as long as you maintain a healthy lifestyle.
This non-surgical treatment is rapidly gaining popularity. It has recently been reported that Jennifer Aniston and Kim Kardashian favour the CoolSculpting treatment. Lindsay Lohan recently had her CoolSculpting treatment at our London clinic. You can find out more about her experience here…
The Cosmetic Skin Clinic
The Cosmetic Skin Clinic is officially the No 1 CoolSculpting Clinic in the UK and Europe for four consecutive years. To date The Cosmetic Skin Clinic has treated over 6500 patients. To book your complimentary consultation in London or Buckinghamshire, call 03308284657, or fill out the enquiry form. Comment below and tell us about your secrets to fitting into the Little Black Dress for Christmas.