Restylane® skinboosters are different from both fillers and toxins and are more about care than correction, and the results are visible without changing the shape of your face.
Restylane® skinboosters create luminous skin on the outside by gently and naturally smoothing the skin from the inside. By adding long-lasting hyaluronic acid right under the skin surface, Restylane®  skinboosters restore the hydrobalance and improve the structure, firmness and elasticity of the skin, giving it new lustre and glow.
Restylane® skinboosters can be used to improve skin quality not only in the face but also on hands, neck, lips, décolletage and in acne-scarred skin. After a first start-up treatment of 3 sessions, one maintenance treatment is performed about twice a year.
New to the Restylane®  skinboosters range is Restylane® Lip Refresh, a unique product within the world of aesthetics.  This new innovative treatment has been designed specifically for the lips and provides you with all the hydration benefits of a Restylane®  skinbooster treatment, whilst providing enhanced lip definition, without a great change in volume.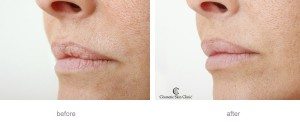 Most Dermal fillers now come with lidocaine pain relief for a much more comfortable treatment experience. We can advise you on the most appropriate treatment for your needs at the time of the consultation. Results usually last in excess of 6 months and to retain the results, we would recommend maintenance top up treatments every 6 – 12 months.
For more information relating to Restylane Skinboosters or to book a consultation please contact our Reception team on 01753 646660 or fill out our enquiry form.