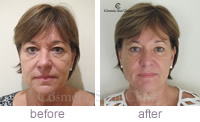 click on image to enlarge

click on image to enlarge
Linda: Restylane®
Linda before treatment using Restylane® for the semi-circular creases that run along the bottom of the lower eyelid just above the cheek bone.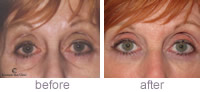 click on image to enlarge
The Result:
The dark hollow lines are dramatically reduced giving a softer 'less tired' appearance.
Tear Troughs
We can restore volume loss and sculpture the face and cheeks as well as hydrating the skin.
As you age the hollow between the eye area and the upper cheek can deepen, creating a tired look. The tear trough can be softened with Restylane or Restylane Perlane. It is a subtle treatment but one that makes all the difference.