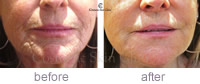 click on image to enlarge
Emily Cash: Restylane Vital Light®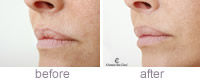 "I have always been blessed with a good pair of lips, but as I have aged they have flattened and become crêpey. This was the perfect treatment for me as my lips look natural and plump again without the dreaded trout pout, I couldn't be more pleased!"
Restylane Skinboosters - Restylane Vital®:
The natural hydrating properties of Restylane Vital® Skinbooster make it the obvious choice for all those skin areas that take on a rough dehydrated or crêpey appearance. These areas typically include the face, neck, and décolletage as well as the backs of hands. It plumps up the skin in a way that creams and other moisturisers simply cannot do. Restylane Vital® moisturises skin from deep within and is actually now proven by clinical studies to work preventatively to stop lines forming. Its sister product Restylane Vital® Light, recently launched the latter part of last year, is excellent for more sensitive skin.
Rachel, Restylane skinbooster experience
Anna Jolley talks about her Restylane Skinbooster treatment