Restylane Skinboosters - Restylane Vital Light®:
This Restylane Skinbooster has been designed for use on more delicate skin, particularly around the eyes, lips, neck and décolletage, and can also be used to improve overall skin condition and texture. For the first time, I would recommend the use of this product as a preventative treatment for skin that it still in good condition, and is often used in my younger patients.
Not a lip enhancement, a lip hydration!
How many times have you looked at a glossy magazine and wanted the lips looking back at you? Restylane Vital Light is an innovative new treatment to hydrate the lips, banishing the crêpey and collapsed flat appearance that occurs with age. This treatment subtly plumps and smoothes lined, dry and cracked lips restoring them to the lips you had 10 years ago! This is an ideal treatment for those of you that are anxious to avoid the 'trout pout' but want to restore your lips back to their more youthful glory. Complete the look as necessary with Restylane to smooth the area immediately above the top lip, eradicating any niggling lipstick bleed lines.
Rachel Thompson: Restylane
Skinbooster Lip Hydrating Treatment
Emily Cash: Restylane Vital Light®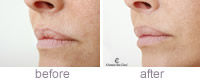 "I have always been blessed with a good pair of lips, but as I have aged they have flattened and become crêpey. This was the perfect treatment for me as my lips look natural and plump again without the dreaded trout pout, I couldn't be more pleased!"