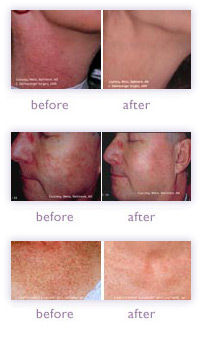 IPL Photo Rejuvenation
Lumenis Intense Pulsed Light ("IPL") Photorejuvenation is a non - invasive treatment breakthrough that erases skin damage without disruption of the skin's surface, hence no downtime.
It can simultaneously treat a wide range of facial imperfections safely and effectively such as broken capillaries, skin discolouration, age spots, freckles, sun damage, mottled pigmentation and rosacea. It also improves enlarged pores and dull complexions to give a smoother, revitalized skin. The skin feels tighter and looks firmer. The same treatment can be used highly effectively on the neck, chest and hands.
A cold gel is applied to the area to be treated and pulses of light are applied. Usually a course of treatments is recommended by our Aesthetic Medical Practitiioner and the number of treatments required would be disussed at the time of the inital consultation, as it varies from patient to patient. This provides excellent long-term results and minimal adverse effects. It offers a safe, dramatically rejuvenating treatment that can be tailored to your own individual skin condition and skin type, providing superior cosmetic results and outstanding satisfaction.
Each treatment takes about 20 minutes and you can return to work the same day and resume all your regular activities.