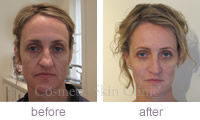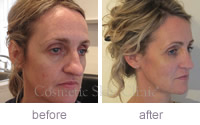 Sara: Mid face lift
A number of treatments were performed gradually over a period of time, muscle relaxing treatments for the frown lines and crow's feet, lip enhancement and Restylane filler for the nose to mouth lines with a small amount of IPL skin rejuvenation to even out the skin tone and texture. Thermage (skin tightening and contouring) for the full face plus Restylane Sub-Q filler to enhance the cheek bones and give a mid face lift.
Results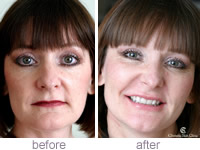 click on image to enlarge
A dramatic softening & lifting effect but still leaving Sara looking natural A natural looking Mid-Face Lift with a spectacular uplift to the face from the cheek enhancement.
Non-surgical face lifts & Y lifts
We can restore volume loss and sculpt the face and cheeks as well as hydrating the skin.
As we age the face loses volume, causing us to perceive our face as sagging or drooping. A simple way of restoring this lost volume is with the use of dermal fillers or collagen-stimulating products.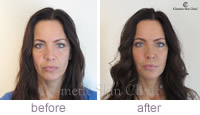 ...astonished how subtle but effective the results were. All my friends kept saying how well I looked. I looked a fresher younger version of myself & that is what I wanted to achieve! Read Mim's full testimonial
When the skin's elasticity declines dramatically, the effects of gravity become all too evident. Gravity causes the tip of the nose to droop, the ears to elongate, the eyelids to fall, jowls to form, and the upper lip to disappear while the lower lip becomes more pronounced. We can restore Volume loss and sculpt the face and cheeks as well as Hydrating the skin.
Linda Blay: JuvédermTM Treatment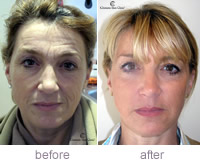 ...I made a phone call which has changed my life. I do look in the mirror, I smile even more than I ever did and I am not self conscious any more.
Non-surgical procedures are quickly gaining in popularity as a means of improving facial appearance by restoring the three-dimensional contour of the face without the need for surgery. The cheeks nasolabial lines and marionette lines can be treated to generate a lifting effect, a look that is instantly rejuvenating, attractive and natural in appearance, this is also known as The Y-Lift.
The Y-Lift is a procedure designed to enhance the normal contour of the cheek and produce a non-surgical lift of the mid-face. The Y-Lift is achieved by using dermal fillers such as Restylane Sub-Q & Juvederm Voluma, this has immediate results and very little down time. This technique works best in the 40-65 year-old age group.