Mens Treatments
More and more men today are concerned with their appearance as well as the aging process. Our ethos is to help shave the years off without detracting from their masculinity.
The Cosmetic Skin Clinic offers a discreet and private environment which our male patients feel totally comfortable in. The treatments offered are very similar to those offered to our female patients, which are muscle relaxant treatments for frown lines and Dermal Fillers for nose-to-mouth lines.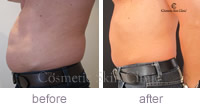 Paul, Gerrards Cross, Buckinghamshire, Testimonial
"The Coolsculpting non-surgical fat loss treatment I had was painless and only took 1 hour! Upon completion of my procedure, everything was normal... ...The entire experience was first class. The staff at The Cosmetic Skin Clinic was very friendly, warm, and very professional"