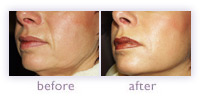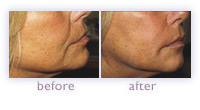 Treatment Performed
I am delighted with the results of my Sculptra treatment at The Cosmetic Skin Clinic. It has given me back the face I had 5, maybe even 10 years ago. Expensive? Yes, but worth every single penny. Thank you so much for suggesting it.
Janice, Bucks
Read Janice's full testimonial
Sculptra™ - Collagen Stimulating Therapy:
Sculptra is a new product which has been specially developed to help the body to 'fill-in' the lines, wrinkles and depressions which develop naturally over the years.
Sculptra is a polylactic acid which occurs naturally and which helps to stimulate the body's own production of collagen within the line or wrinkle, making the skin appear smoother and firmer.
No skin test is required.
Using a needle, Sculptra is injected into the line or wrinkle by a specially trained, qualified practitioner. Initially the gel fills the wrinkle, but Sculptra also works over time to stimulate the production of new collagen within the wrinkle, so the skin regains its previous elasticity and smoothness.
Julia DM Testimonial
"...I am on my 3rd session of Sculptra to which Dr Mountford suggested and I can honestly say that after 20 years of searching, I have never felt happier with the results I am seeing. This clinic has absolutely premium customer care and I for sure will never be going anywhere else."
Sculptra is an excellent way of treating lines and wrinkles on all parts of the face including the forehead, around the eyes, lips, between the mouth and nose and cheeks. It is equally effective on the neck and décolletage. Sculptra can add volume to areas which may have become hollow or 'baggy' such as rings around the eyes, cheeks, lips, folds around the chin and even on hands, knees and ankles. Certain types of scars can also be treated. For most people, two sessions at least 15 days apart, are sufficient, depending on the depth and size of the area being treated. On occasions, a third session may be desirable.
Immediately after having your Sculptra treatment you will see an improvement in the firmness of the skin as the wrinkles and lines have been literally 'filled' with the Sculptra. Within the next 2-3 weeks, the wrinkle or line may appear to regress. This is normal, after a few days, the gel starts to stimulate the natural production of collagen. You will be able to see the full effect approximately 20 days after having your treatment.
Because of the way Sculptra acts to stimulate the body's own collagen, results can last much longer than other types of cosmetic implant. Most patients should expect a sustained improvement for at least a year up to two years.